Dr Claire Smith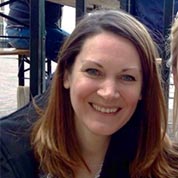 Dr Claire Smith is Lecturer in Child Health at University College London. She obtained her PhD in the Department of Infection Immunity and Inflammation at the University of Leicester studying new vaccine strategies against Streptococcus pneumoniae with Prof Peter Andrew. After a career break to travel the world she was appointed as a Research Associate to study the interaction of respiratory syncytial virus (RSV) and Streptococcus pneumoniae during infection of human airway epithelial cells.
In January 2012 she moved to UCL GOS Institute of Child Health to study co-infection and the respiratory epithelium in health and disease with Prof Chris O'Callaghan. To facilitate this research she set up and manages a respiratory biobank to provide access to human respiratory material that facilitates research across the Institute and externally. Her work on RSV and co-infection led to her appointment as Lecturer with Prof Rosalind Smyth's group in 2015.
Research interests
Dr Smith's research aims to improve our understanding of, and develop new treatment strategies for respiratory virus infections. The WHO estimates that RSV causes 64 million infections and 160,000 deaths annually, with a surge in cases each winter correlating with increased emergency admissions. There is currently no treatment available. Her research explores how RSV targets the airway, whether immune cells (neutrophils) contribute to damage caused to the airway's first line of defense, the ciliated epithelial cells, and how this is exacerbated in bacterial co-infection.