Dr Glenn Cruse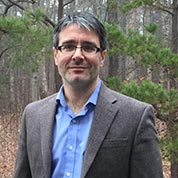 Glenn Cruse is an Assistant Professor of Immunology in the Molecular Biomedical Sciences Department at North Carolina State University's College of Veterinary Medicine, in Raleigh, North Carolina, USA. His research program studies all aspects of mast cell biology with emphasis on basic and translational research of allergic diseases and mast cell proliferative disorders. The Cruse laboratory has a strong interest in identifying functions for the membrane spanning 4A (MS4A) family of proteins, which includes the β-subunit of the high affinity IgE receptor (FcεRIβ) expressed in mast cells and basophils.
Dr. Cruse's current research interests stem from his early work during his PhD studies at the University of Leicester. As a PhD student in Professor Peter Bradding's laboratory in the Department of Infection, Immunity and Inflammation at the University of Leicester, Dr. Cruse began studying the MS4A gene family in mast cells and identified a novel truncated isoform of FcεRIβ that does not traffic to the plasma membrane.
After completing his PhD, Dr. Cruse began a Postdoctoral Fellowship in the Mast Cell Biology Section of the Laboratory of Allergic Diseases, in the National Institute of Allergy and Infectious Diseases, at the National Institutes of Health, Bethesda, Maryland, USA. During his postdoctoral studies, under the direction of Dr. Dean Metcalfe, Dr. Cruse identified that the truncated isoform of FcεRIβ did not associate with, and functioned independently from the IgE receptor complex. Because these studies identified alternative splicing of FcεRIβ as a potential mechanism to target IgE receptor signalling, Dr. Cruse's laboratory is currently developing the use of splice switching oligonucleotides that target FcεRIβ as a therapeutic strategy to specifically target mast cells and basophils in allergic diseases.