Professor Daniel Teta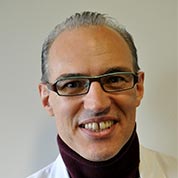 Prof. Daniel Teta, MD, PhD, is Professor of Nephrology at the Faculty of Medicine at the University of Lausanne, Switzerland. He is currently Head of the multisite Service of Nephrology at the "Hôpital du Valais" in Sion in Switzerland. He graduated at the University of Lausanne and completed postgraduate specialties in Internal Medicine and Nephrology (1998) in Switzerland. His postgraduate research education (1997-2000) includes a PhD thesis at the University of Leicester (2005) under the guidance of Professor John Walls and Dr Kevin Harris. Dr Teta published more than 100 articles in scientific journals, with significant contributions in the field of adipokines and nutrition in chronic kidney disease (CKD). He also has given 138 lectures in national and international meetings/congresses.
Prof. Teta is intensively involved in pre-graduate teaching in the specialty "Nephrology" in Switzerland at the University of Lausanne. His post-graduate teaching is mainly dedicated to nutritional aspects of CKD.
Because of his recognized expertise in nutrition related to CKD, he participated to the creation, and he is now director of the "Total Nutrition Therapy (TNT) Renal" course, an international specialized course for renal specialists dedicated to nutrition in this setting. Prof. Teta is chair of the educational Committee of the International Society of Renal Nutrition and Metabolism (ISRNM) and has been President of the 15th ISRNM Congress in Lausanne in 2010. He is currently a member of the revising committee of the K/DOQI Nutrition guidelines 2015-2018 and he is an executive member of the European Nutrition Working Group of the European Renal Association.