Dr Sara Maria Sandrini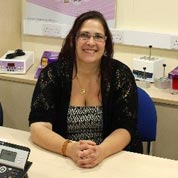 I am a scientist specialised in the field of microbiology, molecular genetics and biochemistry. Since an early age I have always been interested in science therefore during my secondary studies I obtained a Laboratory technician's diploma in Chemistry and Biology in Italy. I then decided to pursue an academic career and I successfully completed my BSc in Biological Sciences (Microbiology) and MSc in Molecular Genetics. Both degrees were obtained from the University of Leicester. However, my journey didn't stop there, after an interview I was appointed a fully funded PhD, again at the University of Leicester. My PhD title was the Interaction of Escherichia coli with catecholamine hormones, transferrin and lactoferrin which was undertaken at the Department of Infection, Immunity & Inflammation. While finishing writing up my thesis, I started working as a Research Assistant in Dr Freestone's laboratory.
Once I obtained my PhD I worked for a year at the University of Nottingham as a Research Fellow in the malaria research field. I then came back to the University of Leicester where I had been working as a Research Associate for several years. My specific interests have been the study of a range of pathogenic microorganisms and inotropic drugs which are clinically relevant, with a view to better understand their interaction within the host and each other. Another scientific aspect that I had been interested in was the understanding of the genetic architecture of microorganisms to exploit natural and mutagenic variation to develop applications useful for the benefits of humankind.
During my years at the University of Leicester as well as publishing several articles and a book chapter on my research, I have obtained a variety of transferable skills which allowed me to flexibly move from academia into industry. As a matter of fact, after a brief career break due to maternity, I decided to move into industry and I have started working as Products Development and Technical Support Executive for Cleaver Scientific which is a manufacturing company situated in Rugby UK that offers a range of instruments, chemicals and consumables for both Electrophoresis and Life Science Laboratory.
Interestingly my connection with the University of Leicester didn't finish with my change in career since my company as well as producing standard equipment is also specialised in customised equipment that can be manufactured to tailor the needs of our customers. One of these pieces of customised equipment, the COMPAC-50 tank, culminated in the improvement of an existing technique, the High-throughput Comet Assay, which was developed by Cleaver Scientific in collaboration with the University of Leicester.