Feeding the Machine
Victoria Szafara - University Staff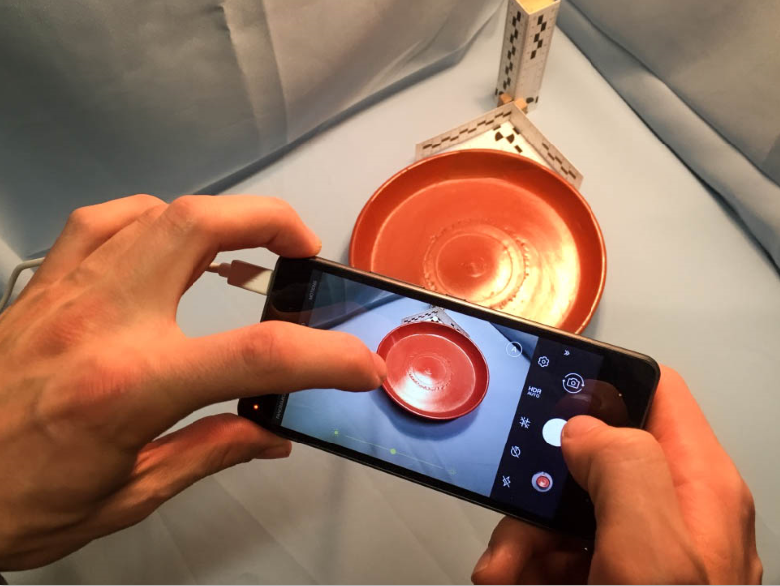 Ancient archaeology meets modern technology.
Using artificial intelligence algorithms similar to facial recognition software, the AHRC-funded Arch-I-Scan project, led by Professor Penelope Allison (School of Archaeology and Ancient History) and Professor Ivan Tyukin (Mathematical Sciences), is developing image-recognition and machine-learning software to identify and record Roman pottery remains.
Hundreds of thousands of images are being taken using handheld devices (mobile phones) and fed into the AI system as part of its 'training' (the more the system 'sees', the more it learns), as can be seen in this photo-within-a-photo of a Samian ware plate from the Museum of London archive.
Image by: Victoria Szafara. Submitted by the Arch-I-Scan project research team: Professor Penelope Allison (School of Archaeology and Ancient History), Professor Ivan Tyukin (Mathematical Sciences), Dr. Alexander Gorban (Mathematical Sciences), Dr. Evgeny Mirkes (Mathematical Sciences), Dr. Daniel van Helden (School of Archaeology and Ancient History), Dr. Santos Nuñez (Mathematical Sciences), Victoria Szafara (School of Archaeology and Ancient History)