Leadership team
Our Leicester Precision Medicine Institute leadership team members are Professor Don J.L. Jones, Professor Jacqui Shaw and Dr Carl Edwards.
Co-director: Professor Don J.L. Jones
Professor in Translational Biomarkers Co-Director of the John and Lucille van Geest Biomarker Facility
Professor Donald Jones has been developing novel mass spectrometric technologies for incorporation into biomarker workflows to facilitate the rapid translation of biomarkers into the clinical setting. Using MS based Omics (proteomics and metabolomics) in combination with informatics and statistics, candidates are identified and then verified using targeted high throughput LC-MS methods. His particular interest is to enable high-throughput testing of discovery candidates in large patient cohorts. He is part of the precision medicine cross cutting theme of the NIHR-Biomedical Research Centre.
Co-director: Professor Jacqui Shaw
Professor of Translational Cancer Genetics
Professor Jacqui Shaw undertook a PhD in Molecular Genetics at Imperial College. After completing her first post-doctoral post she came to Leicester in 1993 to a Lectureship in Molecular Pathology. She was appointed as Professor of Translational Cancer Genetics in 2013.
Professor Shaw's research is focused on circulating nucleic acids for early detection and monitoring of breast and lung cancers. In collaboration with Prof RC Coombes at Imperial College, she leads an integrated programme of clinical and translational research between the two universities funded by a Programme award from Cancer Research UK. She also works with Professor Charlie Swanton as part of the TRACERx major national trial analysing genetic changes in the tumours of non-small cell lung cancer patients from diagnosis and through their treatment.
Professor Shaw also leads the cfDNA advisory group for the 100,000 Genomes project led by Genomics England and sits on a number of advisory boards and editorial boards of international scientific journals.
Co-director: Professor Chris Brightling
NIHR Senior Investigator and Clinical Professor in Respiratory Medicine
Professor Brightling is a Fellow of the Academy of Medical Sciences and NIHR Senior Investigator, his research focuses on improving the clinical management of and understanding the mechanisms of airway diseases such as asthma, chronic coughs and COPD. He is Respiratory Theme Lead for Leicester NIHR Biomedical Research Centre co-ordinates the MRC Molecular Pathology Node EMBER and is the Respiratory lead for the IMI 3TR.

Professor Brightling is the national lead for the post-COVID consortium PHOSP-COVID and local research lead for the COVID-19 pandemic. He draws on his experience in research excellence and leadership to co-ordinate the research teams at the University of Leicester and three Leicestershire Partnership NHS Trust sites in their COVID-19 response.
Commercial Manager: Dr Carl Edwards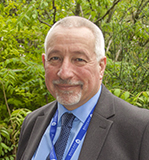 Carl Joined LPMI as Commercial Manager in January 2018 and is responsible for engaging with commercial partners and facilitating industry led research collaborations in precision medicine. He is also providing IP and commercialisation advice to LPMI members, assisting in building a broad base of collaborations for LMPI. Carl is the UK lead for the CODEX4SME European programme to assist SMEs in developing companion diagnostics, providing networking events and access to clinical experts as part of the package of support.
Carl graduated in Microbiology from The University of Aberystwyth and moved on to obtain a PhD from The University of Leicester. His research included blood coagulation and renal transplant surgery, assisting in the management of clinical trials within the Department of Surgery. He completed postdoctoral research at the University of Nottingham developing synthetic oxygen carriers for use as blood substitutes prior to moving on to commercial roles.
Carl is an experienced commercial development manager who has provided consultancy services to pharmaceutical, medical devices companies and venture capital funds. He has worked with companies including Merck, AstraZeneca, 3M and Baxter delivering clinical development plans and investment support. Carl was Director of NHS Innovations East Midlands, responsible for IP exploitation from all NHS Trusts in the region and has also delivered technology transfer at Imperial Innovations and Cranfield University.