Professor
Don Jones
Co-Director of Institute of Precision Health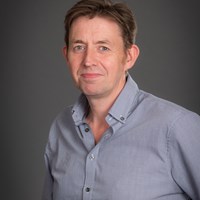 Profile
Professor Jones is co-director of the Leicester van Geest Multi-OMICs Facility, which is a world-leading centre for biomarker research.
Professor Jones' research involves discovering and implementing novel biomarkers of disease using mass spectrometry techniques, with particular interest in the discovery of biomarkers (proteins, metabolites and lipids) using state-of-the-art analytical techniques in combination with novel data interrogation techniques. From these projects the group are establishing targeted assays for biomarkers and working with pathology colleagues to validate and achieve clinical accreditation for assays.
Professor Jones is also Co-director of Institute for Precision Health (IPH) which helps coalesce precision medicine activity across the University and NHS. All this work helps to underpin the implementation of precision medicine by finding novel tools to personalise diagnosis and treatment in modern medicine.
Professor Jones plays an active role in the NIHR Biomedical Research Centre which allows this research to be translated into clinical use.
Research
Professor Jones' primary area of research is cardiovascular (BHF and EU FP7) and cancer biomarkers (CRUK BLF and WRCF) but work more recently has focussed on COVID-19, helping to develop a mass spectrometry (MS) assay for the SARS-CoV-2 virus which can be implemented as an alternative to RT-PCR.
Professor Jones is also very interested in developing cutting edge MS techniques for the analysis of biological molecules.
Publications
(0)
1. Piletsky SA, Bedwell TS, Paoletti R, Karim K, Canfarotta F, Norman R, Jones DJL, Turner NW, Piletska EV. Modulation of acetylcholinesterase activity using molecularly imprinted polymer nanoparticles. J Mater Chem B. 2022 Mar 31. doi: 10.1039/d2tb00278g. Online ahead of print.
2. Alaqbi SS, Burke L, Guterman I, Green C, West K, Palacios-Gallego R, Cai H, Alexandrou C, Myint NNM, Parrott E, Howells LM, Higgins JA, Jones DJL, Singh R, Britton RG, Tufarelli C, Thomas A, Rufini A. Increased mitochondrial proline metabolism sustains proliferation and survival of colorectal cancer cells. PLoS One. 2022 Feb 7;17(2):e0262364. doi: 10.1371/journal.pone.0262364. eCollection 2022.PMID: 35130302
3. Jones DJL, Singh R, Emms V, Farmer PB, Grant D, Quinn P, Maxwell C, Mina A, Ng LL, Schumacher S, Britton RG. Determination of N7-glycidamide guanine adducts in human blood DNA following exposure to dietary acrylamide using liquid chromatography/tandem mass spectrometry. Rapid Commun Mass Spectrom. 2022 Mar 30;36(6):e9245. doi: 10.1002/rcm.9245.PMID: 34939243
4. Piletsky SS, Piletska E, Poblocka M, Macip S, Jones DJL, Braga M, Cao TH, Singh R, Spivey AC, Aboagye EO, Piletsky SA. Snapshot imprinting: rapid identification of cancer cell surface proteins and epitopes using molecularly imprinted polymers. Nano Today 2021 41. 10.1016/j.nantod.2021.101304
5. Norman RL, Singh R, Muskett FW, Parrott EL, Rufini A, Langridge JI, Runau F, Dennison A, Shaw JA, Piletska E, Canfarotta F, Ng LL, Piletsky S, Jones DJL. Mass spectrometric detection of KRAS protein mutations using molecular imprinting. Nanoscale. 2021 Dec 16;13(48):20401-20411. doi: 10.1039/d1nr03180e. PMID: 34854867
6. Van Puyvelde B, ……….. Jones DJL, Gupta P, Lane D, ……et al. Cov-MS: A Community-Based Template Assay for Mass-Spectrometry-Based Protein Detection in SARS-CoV-2 Patients. JACS Au. 2021 Jun 28;1(6):750-765. doi: 10.1021/jacsau.1c00048. Epub 2021 May 3.PMID: 34254058
7. Gupta P, Voors AA, Patel P, Lane D, Anker SD, Cleland JGF, Dickstein K, Filippatos G, Lang CC, van Veldhuisen DJ, Metra M, Zannad F, Samani NJ, Jones DJL, Squire IB, Ng LL. Non-adherence to heart failure medications predicts clinical outcomes: Assessment in a single spot urine sample by liquid chromatography - tandem mass spectrometry (results of a prospective multicentre study). Eur J Heart Fail. 2021 Mar 23. doi: 10.1002/ejhf.2160. Epub ahead of print. PMID: 33759308.
8. Israr MZ, Bernieh D, Salzano A, Cassambai S, Yazaki Y, Heaney LM, Jones DJL, Ng LL, Suzuki T. Association of gut-related metabolites with outcome in acute heart failure. Am Heart J. 2021 Apr;234:71-80. doi: 10.1016/j.ahj.2021.01.006. Epub 2021 Jan 14. PMID: 33454370.
9. Runau F, Arshad A, Isherwood JD, Sandhu JK, Ng LL, Dennison AR, Jones DJL. Proteomic Characterization of Circulating Molecular Perturbations Associated With Pancreatic Adenocarcinoma Following Intravenous ω-3 Fatty Acid and Gemcitabine Administration: A Pilot Study. JPEN J Parenter Enteral Nutr. 2020 Jul 27. doi: 10.1002/jpen.1952. Epub ahead of print. PMID: 32716569.
10. Norman RL, Singh R, Langridge JI, Ng LL, Jones DJL. The measurement of KRAS G12 mutants using multiplexed selected reaction monitoring and ion mobility mass spectrometry. Rapid Commun Mass Spectrom. 2020 Sep;34 Suppl 4(Suppl 4):e8657. doi: 10.1002/rcm.8657. Epub 2020 Feb 14. PMID: 31800120; PMCID: PMC7539944.
11. Cao TH, Jones DJL, et al. Plasma proteomic approach in patients with heart failure: insights into pathogenesis of disease progression and potential novel treatment targets. Eur J Heart Fail. 2020 Jan;22(1):70-80. doi: 10.1002/ejhf.1608. Epub 2019 Nov 6. PMID: 31692186; PMCID: PMC7028019.
12. Kanagala P, Squire IB, Jones DJL, et al.; GREAT (Global REsearch on Acute Conditions Team) Network. Proenkephalin and prognosis in heart failure with preserved ejection fraction: a GREAT network study. Clin Res Cardiol. 2019 Aug;108(8):940-949. doi: 10.1007/s00392-019-01424-y. Epub 2019 Feb 14. PMID: 30767059; PMCID: PMC6652170.
13. Cao TH, Jones DJL, et al. Using matrix assisted laser desorption ionisation mass spectrometry (MALDI- MS) profiling in order to predict clinical outcomes of patients with heart failure. Clin Proteomics. 2018 Nov 2;15:35. doi: 10.1186/s12014-018-9213-1. PMID: 30410428; PMCID: PMC6214161.
14. Emmens JE, Jones DJL, et al. Proteomic diversity of high-density lipoprotein explains its association with clinical outcome in patients with heart failure. Eur J Heart Fail. 2018 Feb;20(2):260-267. doi: 10.1002/ejhf.1101. Epub 2017 Dec 18. PMID: 29251807.
15. Ng LL, Squire IB, Jones DJL, et al. ; GREAT Network. Proenkephalin, Renal Dysfunction, and Prognosis in Patients With Acute Heart Failure: A GREAT Network Study. J Am Coll Cardiol. 2017 Jan 3;69(1):56-69. doi: 10.1016/j.jacc.2016.10.038. PMID: 28057251.
16. Ng LL, Sandhu JK, Narayan H, Quinn PA, Squire IB, Davies JE, Struck J, Bergmann A, Maisel A, Jones DJL. Pro-substance p for evaluation of risk in acute myocardial infarction. J Am Coll Cardiol. 2014 Oct 21;64(16):1698-707. doi: 10.1016/j.jacc.2014.05.074. PMID: 25323258.
.
Supervision
Professor Jones supervises projects on:
Mass spectrometric techniques for biomarker discovery and quantification.
Informatic techniques for biomarker research
Quantitative Proteomics
Metabolomics
Teaching
Professor Jones teaches the following modules:
MSc in Cancer Molecular Pathology and Therapeutics. MB7402
MSc Immunity and Inflammation. MB7319
Press and media
Biomarkers of disease
Precision Medicine
Mass Spectrometry