How we deliver Precision Medicine
How we deliver Precision Medicine
What is precision medicine?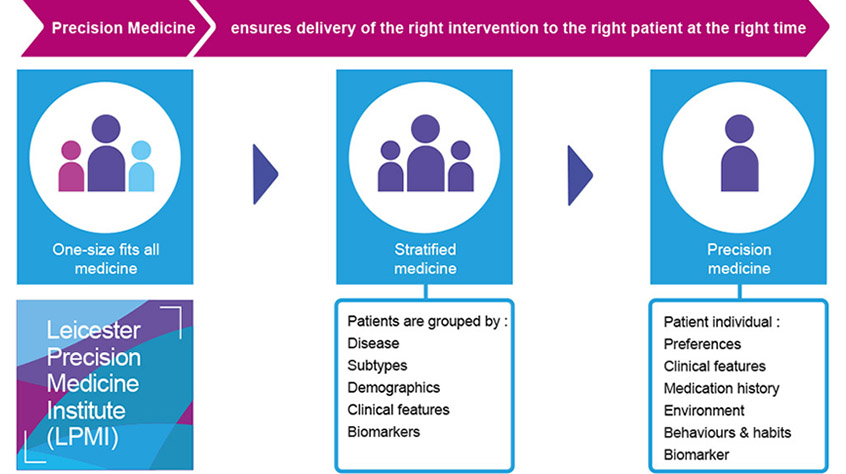 This flowchart shows how Precision Medicine ensures delivery of the right intervention to the right patient at the right time. One-size fits all medicine. Next, stratified medicine; patients are grouped by disease, subtypes, demographics, clinical features and biomakers. Next, precision medicine; patient individual, preferences, clinical features, medication history, environment, behaviours and habits and biomaker.
How we deliver precision medicine
At the Leicester Precision Medicine Institute (LPMI) we partner with industry and local healthcare trusts to accelerate research to deliver improved treatments for patients.
The Leicester Precision Medicine Institute (LPMI) is discovering, developing and testing diagnostics, novel medicines and technologies to improve healthcare provision, patient treatment and clinical outcomes. We focus on our areas of excellence in Cancer, Respiratory, Cardiovascular and Infectious diseases, plus Diabetes Lifestyle research in our ethnically diverse local population. We invest in inter-disciplinary research and platform technologies that include; clinical imaging, liquid biopsy, drug and diagnostics discovery, genomics and next generation sequencing, proteomics, metabolomics, phenomics, data analytics, health and biomedical informatics and environmental impact on disease.