Centre for Phage Research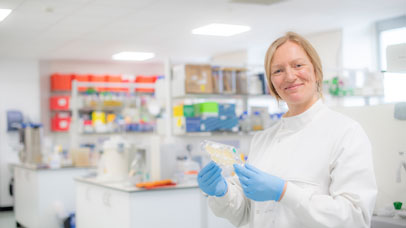 The World Health Organisation (WHO) has identified antibiotic resistance as one of the greatest threats to global health and food security.
In 2019 there was a predicted 4.95 million deaths associated with antibiotic resistant bacteria, with the problem predicted to increase in the coming decades.
The use of bacteriophages (viruses that specifically infect bacteria) offers a promising alternative to antibiotics.
The Centre for Phage Research aims to solve pressing medical and agricultural needs through multidisciplinary research to isolate, understand and deliver phages and phage-based products to prevent and treat bacterial infections.
Current phage research is often limited by the fact phages are largely uncharacterized, genetically highly diverse, and not readily available.
Areas of focus
Establishing a UK Phage BioBank and associated repository of curated phage and host bacterial isolates with well characterised properties, behaviours and verified genomic data. This allows researchers to gain a mechanistic understanding of phage biology to identify the most effective phages with relevant 'attributes' for phage therapy
Working with modellers, bioinformaticians and structural biologists to establish a mechanistic understanding of phages in order to ensure the most optimal phages are developed
Addressing clinical and agricultural needs by developing treatments and unblocking bottlenecks in regulation and commercialisation within a culturally aware framework
Core academic staff
Director
---
Deputy Director
---
Science Lead
---
Clinical Lead
---
Contact
Current partners
The Centre collaborates with a wide range of academic and industrial partners, both nationally and internationally. Key international collaborations are with researchers within the USA, Thailand, Malaysia, China, Saudi Arabia and Denmark.
In particular the research centre works closely with colleagues in the Shandong Academy of Sciences, China and AIMST (Asian Institute of Medicine, Science and Technology) University, Malaysia within the COMBio Unit.
We also collaborate with Phages for Global Health to help train the next generation of phage biologists from across the world.