Year abroad (optional)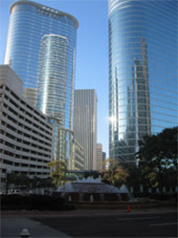 Students studying for the Geography BA, Human Geography BA, Geography BSc and Environmental Science BSc can convert their three-year degree into a four-year programme with a year abroad.
Destinations
We have links with institutions all around the world, chosen because they have Geography departments with similar teaching and research interests to Leicester, and sometimes because they have links with our staff.
How to apply
You do not apply for these programmes through UCAS. All single-subject applicants have the choice of transferring to these programmes once studying for their degree.
Entry requirements
Places on the year abroad are limited, and to be considered you will need to have a strong academic record and be in good standing with the University.
Degree structure
There is no set programme of study, as individual choices are determined by student interest and course availability. In the normal three-year degree the second year accounts for 40% of a student's final mark and the third year 60%. This is also the case in the year abroad programme, with the year abroad being an experiential year. Students who pass this year overall graduate with the year abroad degree; for any who fail, their degree will revert to the standard degree without year abroad appellation.
Fees
Students pay reduced fees at Leicester and are responsible for their own travel and living costs in any destination outside of the EU. For European destinations, fees are covered by the Erasmus programme and you will receive a grant of around 370 Euros per month.
Incoming year abroad students
Students from our partner institutions and students participating in Leicester's Study Abroad programme are welcome to study Geography with us. Whether you come for one semester or for a whole academic year, we have a wide range of modules on offer. Find out more about our courses, or if you have specific questions please contact the International Tutor.
We look forward to welcoming you to Leicester.