Geography Society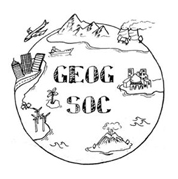 The Geography Society is an entirely student-led organisation and receives full support from the European Geography Association (EGEA) and Geography at Leicester. It plays a key role in creating a friendly and social atmosphere, and brings together staff and students from all year groups and degree programmes.
The GeogSoc Committee organises numerous events throughout the year such as guest lectures, quizzes, day trips, bar crawls, the Christmas party and the final event, the Summer Ball. All of the events are planned with the society members in mind, to ensure that all members gain from being part of the society.
The Society also runs several events to raise money for charity, or to raise awareness about environmental issues.
Furthermore, GeogSoc is one of only two EGEA-accredited Geography Societies in the UK. The EGEA representative will be running student exchanges in the year, which are a great way of getting involved with both the Society and the EGEA.
Departmental sports
The Geography sports teams and intramural events are open to participants of all abilities, with active and high-achieving football and netball teams. Both take part in the intramural social leagues, providing a cost-free alternative to University sports teams.
Football
The football team promises enjoyment for all involved. Friendlies, in which any Geographer can play, take place every week, and competitive matches (in the intramural league between teams within the University) are played every weekend. As well as matches, there are regular team socials. Everyone is extremely friendly and welcoming, so you can take this opportunity to show off your ball skills, or just to get back into the game you love.
Mixed netball
It is a joy to be part of the mixed netball team. Competitive matches take place every weekend in the Charles Wilson Sports Hall on campus. Training and friendlies are organised throughout the week and all Geography students (of any ability) are welcome. This is a fantastic team to get involved with, and an excellent chance to showcase your talent and make some great friends.