Supporting Students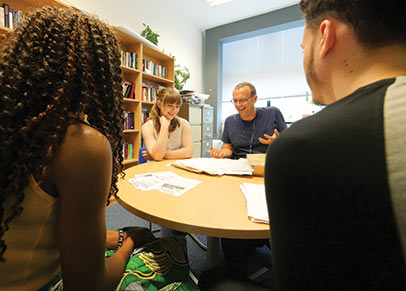 Here's how we support you:
Need to talk more about something you didn't understand in a lecture?
We operate an open door policy and every member of staff has weekly office hours when you can drop by and talk geography.
Worried about your academic progress?
Throughout your three years with us you have a personal tutor who will regularly meet with you and keep an eye on your academic progress.
Need helpful, timely feedback on your assessed work?
The majority of assessed work is marked electronically, giving faster marking turnaround times for feedback and constructive comments.
Don't like exams?
Not all of our assessed work involves exams. We assess your progress in many kinds of ways, including presentations, diaries, reports, field notebooks and more besides. Different students prefer different kinds of assessment and we accommodate this across our modules.
Think something on a module could be done better?
Tell us in our anonymous mid-module and end of module feedback.
Think something in the School could be done better?
Talk to a student representative or, even better, become a student representative on our staff-student committee, a forum for raising queries, concerns and suggestions with staff in a supportive atmosphere.