Religious Education PGCE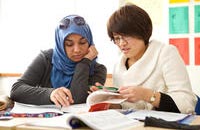 Student teachers within the Geography, History and Religious Education subject specialisms are taught as a Humanities PGCE group. You will have specialist inputs on your chosen subject and also gain experience of issues in planning and teaching cross-curricular work within the Humanities. Your two school placements are in your specialist subject.
Religious Education is facing many challenges within the present education system. It is an exciting and relevant subject which plays a major role in helping children to contribute to a cohesive and compassionate society.
As a trainee teacher, you will have the opportunity to develop your personal and professional skills and expand your subject knowledge. The PGCE programme is both challenging and rewarding and we hope that it will develop both your enthusiasm and confidence as a teacher and Religious Education specialist.
Programme aims
The Religious Education PGCE course aims to:
Support you in extending and deepening your subject knowledge of Religious Education
Expose you to a wide range of strategies for teaching, learning and assessment in Religious Education
Support you in exploring the use of ICT in Religious Education teaching and learning, including internet resources and services and Blackboard, as integral parts of the course
Support you in individualising your learning on the course as a competent and committed professional
Subject specialism
The Religious Education subject specialism will run throughout the academic year and will cover a variety of areas, including:
The meaning and purpose of Religious Education
Teaching RE at GCSE and A-level
The possibilities, opportunities and limitations in the implementation of the non-statutory National Curriculum Framework for Religious Education
Assessment in Religious Education
Learning about and learning from religion
Teaching religion in a diverse community
Social, moral, spiritual and cultural development
Holocaust education
Emotive and controversial issues
Curriculum design
Citizenship
Personal, social and health education
Assessment
Continuous assessment is used throughout the course and there are no examinations.
Subject knowledge
If you feel you need to develop your subject knowledge before applying, Teach:RE offers distance learning courses for those wishing to teach RE in primary and secondary schools.
Eligibility criteria
Degree/A-level
Applications are welcome from students with good Religious Education qualifications at honours degree level, and from those with related degrees such as Theology, Philosophy, Psychology etc.
Those students with joint or combined honours degrees in relevant subjects are welcome to apply e.g. Arts/Humanities, Sociology or Social Anthropology where a significant amount of time was spent studying religion in other contexts. A good A-level pass in Religious Studies would also be beneficial and students should be able to demonstrate a genuine interest in and enthusiasm for Religious Education at interview.
GCSE
All applicants must have achieved a Grade C or equivalent in Mathematics and English Language at GCSE.
You may apply without these qualifications, but if you are successful at interview you must have passed them by the start of the course. Special tests in lieu of GCSE Mathematics and English are available for Secondary candidates who are offered conditional places but are lacking the requisite qualification.