History PGCE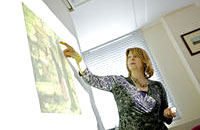 Student teachers within the Geography, RE and History subject specialisms are taught as a Humanities PGCE group. You will have specialist inputs on your chosen subject and also gain experience of issues in planning and teaching cross-curricular work within the Humanities. Your two school placements are in your specialist subject.
History is one of the oldest subjects in the school curriculum and has undergone something of a transformation in recent decades. We are committed to History being taught as a lively, thought-provoking subject.
Throughout the course you are expected to develop your subject knowledge. This is one of the joys of teaching your subject - you will develop more knowledge yourself. Enhancing your subject knowledge is a priority and you will need to take responsibility for your own learning and adapt to whatever is required in schools.
You will be well-supported and encouraged in developing your knowledge and understanding of how History can be taught well. We will help by auditing your knowledge, organising peer teaching and sharing of expertise, and recommending reading when appropriate.
Programme aims
The History PGCE course aims to:
Model good practice for your work with pupils, with an emphasis on active, student-centred learning
Help you develop varied, imaginative strategies for use in the classroom
Demonstrate how artefacts, original documents and photographs, drama, role play and re-enactment, oral and local history and fieldwork can be used to enhance pupils' learning
Develop your capacity to reflect on the nature of the key concepts of History in order to be able to teach them well
Provide you with opportunities to develop collaboratively with other History specialist trainees by sharing expertise from your prior study of History and by working closely with your peers in developing and evaluating your teaching
Develop your understanding of your professional role as one which contributes within a department and in relation to whole-school communities
Subject specialism
The History subject specialism will run throughout the academic year. The course helps you to become a reflective and skilled teacher of History and integrates well-developed and successful practice that has been embedded in schools.
The course for History will help you to understand various frameworks for teaching the subject. Alongside regulatory frameworks and curriculum requirements, the course helps you to understand the relationship of the school subject to schools and society, school History's clear links with History as an academic discipline, the conceptual and procedural aspects of the subject in schools (how we understand and "do" this), and links to wider issues such as historical identity and communities.
The History course develops your understanding and practice of teaching your subject (pedagogical knowledge) in a highly practical and experiential way, and uses research into a range of fields such as reading theory, identity and language, as well as research into the conceptual nature of learning history, adolescent understanding of and attitudes to the subject.
Pedagogical knowledge and understanding developed on the course includes:
Developing pupils' understanding of concepts and procedures/processes
Curriculum design
Progression in History
ICT, e-learning
Examination requirements
Subject literacy
Using original archive materials and historical sites
Holocaust education
Enquiry learning
History's links to active and critical Citizenship
Emotive and controversial issues
Preparation for career entry and development includes:
Reflection and evaluation
Using critical incidents and professional learning conversations
Understanding the community of history teachers and stakeholders
Developing your personal educational philosophy
Understanding schools as communities
Developing your historical knowledge is personalised and individual to each trainee. No one joins the course with all the historical knowledge they need to teach since school curricula are varied and responsive. Auditing your subject knowledge before joining the course helps you prioritise gaps in your knowledge and your subject knowledge development continues throughout the year using:
Existing expertise
Self-auditing
Using blogs as a knowledge development tool
Peer tutoring
Assessment
Continuous assessment is used throughout the course and there are no examinations.
Eligibility criteria
Degree/A-level
Applications are welcome from students with good History qualifications at honours degree level, and from those with joint or combined honours degrees in which History is a major subject.
Applications may be accepted from students from associated academic backgrounds such as Classical Studies, Law, International Relations and Government and Politics. All such applicants must have an A-level (or equivalent qualification) in History and be able to demonstrate a genuine enthusiasm for History in their application and at interview. Students without History as a major subject will be set essential background reading to prepare for the course.
GCSE
All applicants must have achieved a Grade C or equivalent in Mathematics and English Language at GCSE. You may apply without these qualifications, but if you are successful at interview you must have passed them by the start of the course. Special tests in lieu of GCSE Mathematics and English are available for Secondary candidates who are offered conditional places but are lacking the requisite qualification.