English PGCE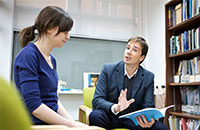 English is a core subject within the secondary curriculum. The English PGCE course aims to prepare you to meet QTS standards fully, and to learn to teach the 11-19 English/Media curriculum with confidence, authority and enthusiasm.
Taught sessions, tutorials, online and in-school support will ensure that, as a creative teacher, you can facilitate your own students' development as fully literate young adults who can understand, engage with and create a multiplicity of texts both within and beyond the classroom.
You will have taught sessions and in-school mentoring from some of the best practitioners in the field, and with their support, you will learn how to become an effective practitioner yourself. The programme will cover all areas of the National Curriculum for English. It will also address preparation for public examinations across the 16-19 age range and KS3 school-based assessments.
The English PGCE course at Leicester has a number of distinctive features. You will gain experience of writing poetry and composing a writing portfolio of a wide range of other texts in collaboration with others. You will take part in practical drama workshops and learn about teaching many aspects of Media and Film Studies. You will also engage in extra-curricular learning and have other opportunities to further your own professional development.
Programme aims
We want you to:
Reflect critically on the English/Media curriculum and be inspired by the dynamic nature of your subject
Learn from examples of best-practice and become an effective practitioner
Be well-supported by both University and school tutors, and to support and be supported by your fellow students in the development of subject knowledge and classroom expertise
Set high expectations for yourself and for your students
Develop an understanding of your professional role within a department and a whole-school team
View the PGCE course as the beginning of your continuing professional development
Subject specialism
The English subject specialism will run throughout the academic year with most sessions compulsory for English students. Sessions will cover a variety of areas including:
Reading
Writing
Speaking and listening
Planning and using curriculum documentation
Poetry
Media in the National Curriculum
Teaching Shakespeare
Drama and citizenship/GCSE Drama
KS4 literacy and language teaching
Post-16 A-level English, Media, Communication and Culture and Film Studies courses
Assessment
Inclusive practices
The teacher as writer
Learning outside the classroom
Assessment
Continuous assessment is used throughout the course and there are no examinations.
Eligibility criteria
Degree/A-level
Applications are welcome from students with good English qualifications at honours degree level, and from those with joint or combined honours degrees in which English is a major subject.
Applications may be accepted from students from associated academic backgrounds such as Film and Media Studies, American Studies, Classical Studies, History and Law. All such applicants must have an A-level (or equivalent qualification) in English Language and/or English Literature and be able to demonstrate a genuine enthusiasm for English in their application and at interview. Students without English as a major subject will be set essential background reading to prepare for the course.
GCSE
All applicants must have achieved a Grade C or equivalent in Mathematics and English Language at GCSE.