Geography PGCE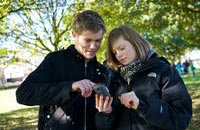 Geography is the sixth most popular GCSE subject and 11th most popular at A level. Increasing numbers of students are choosing Geography because it is an exciting and relevant subject which plays a major role in helping children to develop a better understanding of the complex and dynamic world around them. Geography explores a wide range of contemporary world issues such as climate change, global geopolitics, migration and sustainable development. It is an exciting and relevant subject which plays a major role in helping children to develop a better understanding of the increasingly complex world around them. Geography is highly valued by universities and employers and provides students with a wide range of knowledge and transferable skills in preparation for university or life after school.
Geography PGCE student teachers are taught by a subject specialist and will have the opportunity to work with other PGCE students in the Academic and Professional strand throughout the academic year. Your two school placements are in your specialist subject.
As a trainee teacher, you will have the opportunity to develop your personal and professional skills and expand your subject knowledge. The PGCE programme is both challenging and rewarding and we hope that it will develop both your enthusiasm and confidence as a geographer and a teacher.
Programme aims
The Geography PGCE course aims to:
Broaden and deepen your knowledge and understanding of Geography for teaching purposes
Provide you with an informed and critical view of National Curriculum, GCSE, A-level and relevant vocational requirements
Raise awareness and provide experience of a broad range of learning and teaching strategies
Develop your skills in classroom management, planning, communication, assessment, recording and evaluation
Develop your understanding of the differing needs of a range of students including those with special educational needs (SEN) and English as an additional language (EAL)
Introduce you to the geography education community, including the Geographical Association, Royal Geographical Society (with IGB).
Subject specialism
The Geography subject specialism will run throughout the academic year and will cover a variety of areas, including:
Curriculum-making and lesson planning and sequencing
Approaches to learning, teaching and assessment
Contemporary issues in geography education
Geographical Enquiry
Geographical Information Systems (GIS)
Fieldwork and outdoor learning
Where possible, progress of students in teaching and learning skills and understanding will (in part) be developed through the creation of curriculum ideas and resources with external partners for wider use by the geographical educational community as well as on teaching placement.
Assessment
Continuous assessment is used throughout the course and there are no examinations.
Eligibility criteria
Degree/A-level
Applications are welcome from students with good Geography qualifications at honours degree level, and from those with joint or combined honours degrees in which Geography is a major subject.
A range of degree subjects related to Geography will be considered such as Environmental Science, Earth Studies, Geology, Planning and Archaeology. In these cases applicants must have an A-level Geography qualification and be able to demonstrate a genuine interest in and enthusiasm for Geography at interview. Students without Geography as a major subject will be set essential background reading to prepare for the course.
GCSE
All applicants must have achieved a Grade C or equivalent in Mathematics and English Language at GCSE. You may apply without these qualifications, but if you are successful at interview you must have passed them by the start of the course. Special tests in lieu of GCSE Mathematics and English are available for Secondary candidates who are offered conditional places but are lacking the requisite qualification