Social Science PGCE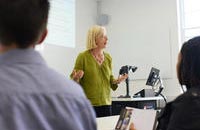 The Social Science PGCE course aims to prepare you to meet the Teachers' Standards fully and to teach A-level Psychology and/or Sociology with confidence and authority.
Programme aims
The Social Science PGCE aims to:
Introduce you to the variety of strategies and techniques available to the teacher in the modern education system
Model the above strategies and techniques in University sessions
Guide you to a set of principles which will allow you to operate as effective practitioners in new and challenging situations
Introduce you to wider issues which confront Social Science teachers
Inform you about current developments in education which impinge upon your role as Social Science teachers
Subject specialism
All training will be done as a Social Science group, though specialist Psychology and Sociology sub-groups are formed where appropriate. In addition, all students are required to teach one or more Humanities, PSHE, and/or vocational course.
The Social Science subject specialism will run throughout the academic year and will cover a variety of areas including:
Psychology/Sociology
Personal and social education
Vocationalism
ICT and Social Sciences
Examination and assessment issues
Assessment
Continuous assessment is used throughout the course and there are no examinations.
Eligibility criteria
Degree/A-level
Selection for the Social Science course is based on the general qualities required by the University of Leicester course as a whole. However, there are three other issues that applicants need to note:
The course at Leicester attaches each trainee to either a Psychology/Sociology/Social Sciences department in the school/college placements. Successful applicants can be either mainly Psychology post-16, mainly Sociology post-16 or Psychology and Sociology post-16.
As the Social Sciences have a limited presence in the pre-16 curriculum, successful applicants will show that they have the knowledge to teach outside of the Social Science curriculum, usually in the form of some Humanities or vocational teaching pre-16. Other options for pre-16 teaching may be acceptable, however there are limitations on the range of subjects that might be reasonably provided for in the PGCE Social Science course.
As competition for places on the Social Science course is fierce, early application is advised.
GCSE
All applicants must have achieved a Grade C or equivalent in Mathematics and English Language at GCSE.
You may apply without these qualifications, but if you are successful at interview you must have passed them by the start of the course. Special tests in lieu of GCSE Mathematics and English are available for Secondary candidates who are offered conditional places but are lacking the requisite qualification.