Secondary PGCE School Direct
Secondary PGCE School Direct
PGCE, 1 year, full-time
This is for you if... you have a degree and would like to train to teach 11-18 year-olds as part of the School Direct scheme.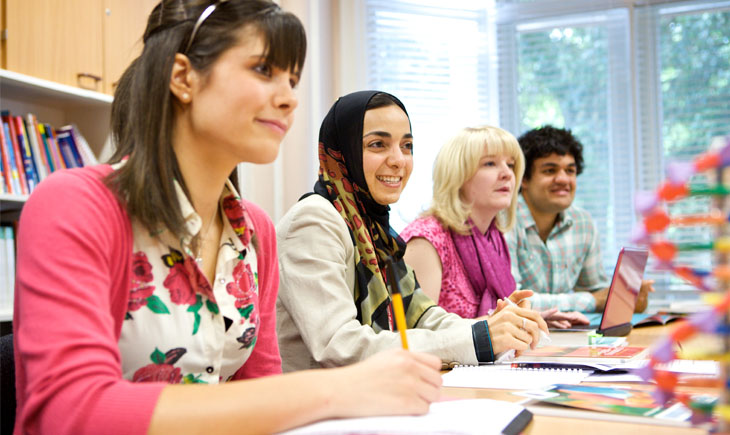 Course Description
Please note that applications for 2017 entry to our PGCE courses are now closed.
Applications for 2018 entry will open in late September or early October (date to be confirmed by NCTL).
School Direct was introduced in 2012 and allows schools to directly recruit students onto teacher education courses run in collaboration with universities. To make sure you have a range of placement opportunities, schools work together in Teaching Alliances.
This course is made up of both campus-based sessions - which will give you a grounding in the principles of good teaching practice - and school-based placements giving you the chance to apply your knowledge and experience a wide range of classroom situations. These placements will be in contrasting schools to give you a broad range of experience - they could be in city, suburban or rural schools, in the independent or state sector.
By the end of the course you will achieve Qualified Teacher Status (QTS) and awarded a University of Leicester PGCE.
The School Direct Secondary PGCE is run in partnership with a range of partner schools. You can choose which school you would like to apply for and then submit your application through UCAS.
Each School Direct provider school will offer its own unique range of placement experiences and opportunities but will still share most, if not all, the Secondary PGCE Teacher Development Course with the University of Leicester Secondary PGCE students, giving you a great opportunity to share experience and practice with other students.
The following schools are our School Direct Secondary Providers:
If you have any queries regarding the School Direct courses, please contact your chosen school directly and they will be happy to help. Please use the contact details provided.
Not sure which PGCE route is right for you? Have a look at our Routes into Teaching pages to find out more about PGCE, School Direct and SCITT routes.
Why Leicester?
98% of our students achieved Good or Outstanding teaching grades at the end of the 2015-16 course. 95% of our 2015-16 students had secured a teaching post by the end of the course.
We work with over 200 primary and secondary schools in city, suburban and rural settings, in both the State and independent sectors.
You'll have access to the very best, and most inspiring, practising teachers – participating in their seminars, observing them in the classroom, or being guided by them during your placements.
Course Structure
Professional Studies Programme
Professional Studies Programme
The Professional Studies Programme runs throughout the academic year and forms the core of the Secondary PGCE programme. The Professional Studies Programme is compulsory for student teachers from all subject areas.
The Professional Studies Programme will introduce you to a wide range of generic professional issues, organised into three strands that run throughout the PGCE year:
Reflective Practice
Career Development
Professional Values
Academic Skills Development
In addition to the compulsory programme, you will have the opportunity to choose from a wide range of optional sessions. This allows you to tailor your training to meet your own needs as you develop as a teacher. Previous optional sessions have included:
Using Your Voice Effectively
Understanding Autism
Teaching Sport
Classroom Management
Preparing for an Interview
In addition, subsidiary courses may run during the weeks you are at the University as an additional option. In the past these have covered 'Teaching English as an Additional Language' and 'Learning Outside the Classroom'.
Modules shown represent choices available to current students. The range of modules available and the content of any individual module may change in future years.
School Placements
School Placements
You will undertake two secondary teaching placements in our Partnership Schools. You will have the opportunity to work in diverse inner city and rural environments, with learners from a wide range of ethnic backgrounds. We try to place students in contrasting schools to ensure you have a rich and varied experience in your initial training year.
The placements are referred to as 'Phase A' and 'Phase B' placements.
Phase A
Your first placement is the 'Phase A' placement. You will attend 2 induction day visits to your Partnership School. You will then spend 44 days in this school. You will build on existing experience and develop new skills with support from the school's Co-ordinator for Initial Teacher Training and the subject Co-tutor who will oversee your professional development during the placement.
Phase B
This will start in either February or March and will involve 55 days in your placement school. The Phase B school has a Co-ordinator and Co-tutor who have similar roles and responsibilities as those in the 'Phase A' School.
Modules shown represent choices available to current students. The range of modules available and the content of any individual module may change in future years.
Teaching and Assessment
Your learning will consist of a combination of university-based classes and school-based teaching placements where you will get hands on experience of teaching a class. Our course has been praised by external examiners for its focus on reflection. You will be encouraged to evaluate your own teaching and share your learning with your peers.
Throughout your PGCE course you'll have the support of a range of tutors and the confidence this brings. We'll make sure you have the right support at the right time – whether that's at university, in school or within your own specific discipline.
Entry Requirements
2:1 degree (or above)
GCSE Grade C or above in English Language and Maths.
A Levels (or equivalent) in relevant subjects
You also need to have some recent experience in a mainstream secondary school
A pass in the Professional Skills Tests in literacy and numeracy
Application Process
The application process for a PGCE is different from other postgraduate courses so please see our information on how to apply.
You should also read this advice for applicants before you apply.
Additional requirements
Admission to the course is subject to a satisfactory medical report. The University will provide more information about this should you be offered a place.
All offers are subject to a satisfactory enhanced DBS disclosure. We will provide instructions regarding the DBS application process once you have accepted an offer of a place on the course.
English Language Requirements
You must have a GCSE Grade C in English Language. Please see our entry requirements (left) for more information.
International Qualifications
Find your country in this list to check equivalent qualifications, scholarships and additional requirements.
Countries list
Fees and Funding
This is the total course fee.

Starting in 2018

PGCE students can apply for loans from Student Finance England and may be entitled to a tax-free NCTL bursary.

Find out more about scholarships and funding.

Scholarship

Teacher Training Scholarships for Secondary Physics, Chemistry, Mathematics and Geography Trainees

Scholarships of up to £30,000 are offered by the following organisations:

Institute of Physics (IOP)
Royal Society of Chemistry (RSC)
Institute of Mathematics and its Applications (IMA)
Royal Geographical Society (Geography)

These scholarships are awarded to the most talented trainees in place of the NCTL bursary.

To be awarded a Scholarship you will need outstanding subject knowledge and the potential to become an inspirational physics, chemistry, maths or geography teacher. Each scholarship also includes a package of benefits including membership and early career mentoring.

Further information regarding these scholarships can be found on the DfE website. To view the full eligibility criteria and submit an application, please visit the website of the appropriate organisation:




Please note: International (non-EU) students are not eligible for a place on a School Direct PGCE but can apply for the regular Secondary PGCE.
Career Opportunities
We will support you in applying for teaching posts. The mock interviews we include as part of the course have directly resulted in job offers for our students.
We foster your continued relationship with Education at Leicester once you become an NQT by supporting your career development in a number of ways.
Education CPD+ offers a range of professional development opportunities for practicing teachers, and we offer Masters courses with a focus on Learning and Teaching, Educational Leadership, TESOL and Applied Linguistics.
Our PhD opportunities are very popular with those wishing to pursue a particular research interest at doctoral level. We are committed to training excellent teachers during the PGCE and beyond, and we are proud that so many of our students return to us for further study once qualified.
During your NQT year you will be invited to attend an NQT conference which includes keynote speakers, a variety of workshops and networking opportunities. Previous attendees have said:
"It made me think a lot about my ethos in the classroom. Humorous and insightful, put the year into perspective."
"Fantastic and inspiring."
"Lots of ideas to put in place tomorrow!"
Careers
Our Career Development Service is here to support you, with advice on interviews, CVs, work experience, volunteering and more. From Freshers' Week to Graduation and beyond, they are here to help you reach your professional goals.
| Course | Qualification | Duration | Start Dates | Availability |
| --- | --- | --- | --- | --- |
| School Direct Secondary Education | PGCE | 1 year full-time | September each year | 2017 applications now closed. 2018 applications not open yet. |
Course
School Direct Secondary Education
Qualification
PGCE
Duration
1 year full-time
Start Dates
September each year
Availability
2017 applications now closed. 2018 applications not open yet.