Karl Zegarac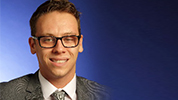 MChem Chemistry
Graduated 2015
I really enjoyed my four years at Leicester in the Chemistry Department, and I wouldn't swap them for anything. I was surrounded by peers that shared the same values as me, which incorporated working hard, playing hard and getting results. This definitely set me up for the real working world, as you can't take life too seriously, but sometimes there is time pressure and you have to work hard. These are the times when you come together with peers, colleagues and friends, and collaborate to succeed, which I learnt during my degree thanks to the members of the department and the friends I made. This, on top of my valuable chemistry and transferable skills, has set me up for working in the professional services industry.
Since leaving Leicester I have joined the 'Big 4' accountancy firm KPMG in Corporate Finance, which has really made me value the transferable skills from my degree and also shows the diversity of people that big corporations and graduate employers are looking for, not just in my line of business but also in retail, marketing and banking - the list goes on. Employers look for people that see outside of the box as well as inside, and chemistry opens a lot of doors. Working in the Infrastructure Advisory Group within corporate finance means I advise high-profile public and private sector clients on investing or divesting in major projects, including financing wind farms and solar farms which very much integrates my green chemistry. I'm also engaging in new worlds such as financial modelling and liaising with clients, whilst building on skills from my degree such as conducting data analysis. It is a steep learning curve but in these businesses you are very well-supported and they keep it interesting. On top of work I am also studying for the ACA qualification which will qualify me as a chartered accountant in three years' time, and KPMG fund the studying and nurture you to succeed to make you more valuable as a person. I am engaged in many volunteering opportunities and also will be hopefully appointed as a school governor soon.
In five years' time there will be a variety of options available to me, I will be qualified as a chartered accountant which will qualify me for a promotion in the business, and I am hoping to take advantage of KPMG's mobility programme and be seconded to either the US or New Zealand to work on major infrastructure projects there.
Chemistry at Leicester has been seriously valuable to my career progression and I would challenge others to utilise a chemistry degree to move forwards into a career that you dream of chasing.