Chris Smith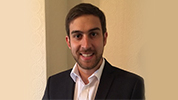 MChem Chemistry with a Year Abroad
Graduated 2013
Immediately after graduation I took a role for the summer in Greece, teaching sailing to English holidaymakers in the resort of Vassiliki. With one final summer before the 'real world' starts, I figured I'd make the most of it!
During my final year at Leicester I searched for graduate roles and graduate programmes with companies up and down the country, eventually accepting a two year graduate management programme at Unipart Group Ltd.
During my first two years with Unipart I experienced a number of different aspects of the business including operational management and external consultancy, eventually settling in the Unipart Expert Practices (UEP) division as a management consultant. As a Leicester student I was lucky enough to study abroad at Colorado State University (CSU), without a doubt year to remember. When a six-month secondment in New York City became available, my experience in the USA at Colorado State and the inside knowledge I had gained on American culture and customs made me the perfect candidate to send out (even though I was still a graduate trainee). Since returning from the USA I have worked with external clients, predominantly within financial services, covering both insurance and credit-based businesses.
Whilst my career has taken me away from Chemistry, the experience I gained (especially in analytical thinking and data manipulation) at the University of Leicester has been truly invaluable. Leicester's strong reputation, combined with recognition for the difficulty in which achieving a degree in Chemistry poses, have both served me extremely well.
My goal five years from now is to progress through to a managing partner role within a large multinational management consulting business. This role will include people management, project management, financial skills, relationship development and stakeholder management to name but a few skills. All of which are supported by my time at Leicester as member of the Chemistry Department and University Chem Soc.
For a university which strikes a perfect balance between academic and social development, there is no better place than Leicester.