Student Blog: Year in Industry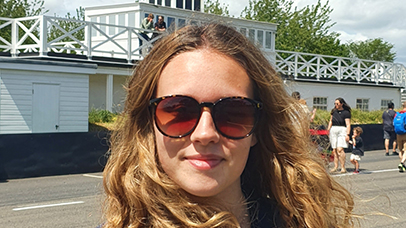 Hi! My name is Rosie and I am a 3rd year Chemistry student on the MChem with a Year in Industry course.
I have been studying at the University of Leicester for 2 years now and I am currently on placement at Infineum in Milton Hill. I am from Swindon in Wiltshire and in my spare time I enjoy exploring different parts of the UK via foot, car and motorbike, with the NC500 in Scotland being my favourite trip so far. The purpose of this blog is to allow you to gain an insight into what undertaking an industrial placement is like, and the highs and lows as I experience them throughout the year.
September: Safely navigating the second month
Two months now completed at Infineum and lots has changed. I have now switched over from the Fuels team to the New Business Ventures (NBV) team with my project changing from the HVO work too (see my previous blog post from August about this work). Although I was enjoying my previous HVO project, my new project with NBV is much more exciting and allows me to use different analytical equipment I wouldn't have otherwise had experience with. One of these is the rheometer, which is used to look at the way fluids behave under different types of stress. Some of the parameters that can be measured and calculated include viscosity and shear rate. These can be used to compare materials in their performance to a certain application, or can also be used to characterise them. The rheometer is an instrument that is quite sensitive to the amount of sample loaded. Often I have found myself discarding the loaded sample and starting again due to putting too much on. This makes the process of using the rheometer relatively time-consuming so patience is certainly required!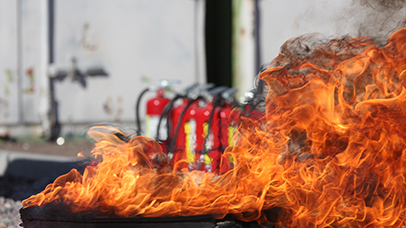 One of the most important things that Infineum focuses on is safety and good training. In order to use any equipment, or even be in the lab, training is required. This might sound a bit boring, but it can actually be quite fun! One of the most recent training sessions we had was on fire safety. For this, Infineum brought in an external ex-firefighter who taught us about what to do in a fire, when you can and can't tackle a fire, and what the different extinguishers can be used for. This training consisted of a lecture, some videos, and most importantly… a real life demonstration with fire! At the end of all the teaching, we each got to have a go at putting out a fire using the appropriate extinguisher for the type of fire e.g. electrical can only be put out by CO2 and powder. This definitely made the training very exciting, not to mention the ex-firefighter was a pretty sick guy.
Another highlight of this second month was my volunteer day. At Infineum, all employees get an extra 'free' day off work to undertake some volunteering, if you would like to do so. One of my colleagues set up a group activity at Aston Rowant Nature Reserve with Natural England to undertake some 'hawthorn popping'. Hawthorn encroachment is a threat to other species at the nature reserve, so our task was to remove as many hawthorns as possible. There were several different tools we could use to do this. Some allowed the plants to be levered up by the roots, which created a 'popping' noise (hence 'hawthorn popping') and others trimmed them down. Although it was forecast to rain on the day, we were lucky and had warm weather. Due to the strenuous work, we had lots of tea breaks and at the end of the day went on a walk around the nature reserve and met the sheep. This was a really nice day to break up the work week and something I think I am very lucky to have the opportunity to do with Infineum.
Of course with the University term starting at the end of September, this past month I haven't just been thinking about work at Infineum. Throughout my placement year I will also need to complete a number of coursework assignments and watch lecture videos online, in addition to doing some exams in January and May. To prepare, I have tried to plan out the lectures I need to watch and content I need to learn before the coursework deadlines, which is roughly 2-4 lectures each week after work. There are also a number of practice questions I can attempt whilst watching the lecture videos, which I have timetabled in for myself at the end of a video that relates to the practice question. Something I am also trying to fit in that's quite important to me is exercising and going to gym. With this, my days are certainly well packed. It's safe to say my organisation and time management will be tested this year, but I'm hoping I'll be able to give it a good shot!
August: Getting Started
Despite this blog being about my experience on a Chemistry Industrial Placement, the first degree I started studying was actually Medicine. Initially this was very exciting, however I was finding myself starting to get disinterested in the biology-based content I was learning. I also found that the lifestyle of a doctor was more self-sacrifice than I was prepared to give so I made the decision to leave Medicine and pursue a degree in something else. Chemistry had always been my favourite subject at A-level, due to the challenging nature of it, which was my reason for choosing it to study at University. Despite being quite nervous about this change, Chemistry proved to be the right choice and from the very start I felt completely engrossed in the subject and found the content very intriguing (although Quantum Mechanics is still quite complex for me). Although only undertaking a few in person lab sessions in 1st year due to COVID, I found it one of my favourite parts of the course, as I was physically 'doing' something. It soon become apparent that doing an MChem with a Year in Industry would be particularly ideal for me, as it would allow me to work on projects that can be applied to real-world situations, which is quite exciting and what Chemistry is all about!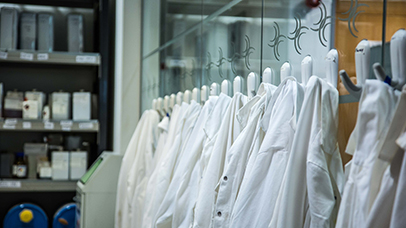 The 3rd year of the Year in Industry involves working for 9 – 13 months away from the School of Chemistry at a company whilst completing some University modules via distance learning. The placement is assessed through a big, fat report and a presentation at the end of the year. Preparation for securing a placement starts well in advance of when applications open. I started the application process throughout summer between 1st and 2nd year by working on my CV and having several summer jobs. I also did a bit of research on some companies I might like to work for and different fields that I found interesting. From 1st year I found Physical and Materials Chemistry to be my favourite topics so prioritised placements within these areas. September is when placement applications started to open and was when I began sending off my applications. I applied to numerous places from Formula 1 teams, to big companies like AstraZeneca, to companies I had never heard of such as Infineum. Despite my research over summer, I only became familiar with Infineum through my personal tutor at Leicester (shout out to Sandy Kilpatrick!) who had friends that worked there. Through further research I discovered they were an Oil and Fuels Additive company. Oil and Fuel is not something that is really taught at most Universities, so this seemed like a good prospect to have the opportunity to learn something different. From the many places I applied to, I received a host of both rejections and interviews. One of these interviews was an in-person interview at Infineum in November time. Having the interview in-person was something that really stood out for me, as all of my other interviews were online.
On my interview day at Infineum, I was really nervous. The day consisted of two interviews: a technical- and a competency-based one. The technical interview I was most nervous for, as this is something I had never really experienced when applying to jobs in the past. Nevertheless it somehow went quite smoothly (despite forgetting the word for 'fractional distillation'!). Next came the competency-based interview, which involved several presentations I had to prepare in the weeks leading up to the interview. These too went better than I thought, although I wasn't too sure on some of the answers I gave. Interviews were then followed by a tour of the site, which was a little hard to take in when you're so exhausted from the interviews, but it was cool to see what an actual chemical company looks like, especially the labs.
One week later…I got the job at Infineum! I was absolutely over the moon. It was so relieving that I didn't have to apply to anymore placements and could finally relax. The next step was for me to attend a drug and alcohol screening at Infineum in March, where I also had a meeting with my supervisor to find out what my project was on. My project turned out to be on HVOs (hydrogenated vegetable oils) and their capabilities as a diesel alternative. This was a whole new topic to me and made the prospect of my placement year very exciting, especially since I was going to have the opportunity to work on sustainable fuels, something that is very much in need with our current day climate change problems.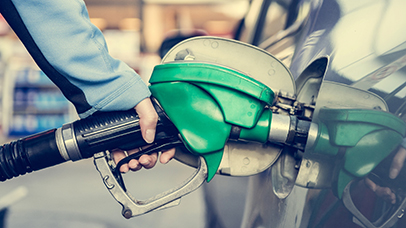 Fast forward to July and I had started my placement! The first few weeks started gently and consisted mainly of training and getting to know the company. The science behind the additives and need for them in oils and fuels was taught to me with the main focus on cold flow and wax crystal modification, as this was what my project was on. There was also mention of other sectors our additives have the potential to be used for, due to Infineum moving from being a speciality company in 'Oil and Fuel Additives' to being a 'Speciality Chemicals Company' with broadening focus in other areas including electrification of mobility. In the last couple of weeks of my first month I started to undertake some lab work including running IR (infrared) experiments, making fuel blends, and finding flash points of samples. At Infineum I am in the 'Fuels' section, meaning the majority of the samples I deal with are fuel related. It's therefore quite important these fuels are stored in the correct temperature ovens, hence the need to measure flash points of samples. IR is also a particularly important technique to analyse samples and compare them to one another. 'Blending' is a term that most people probably haven't heard before (I certainly hadn't before I started) but is essentially the process of mixing fuels, solvents or additives, with heat usually being applied.
So far my time at Infineum has been really enjoyable and I can confidently say it's been a very successful first month.