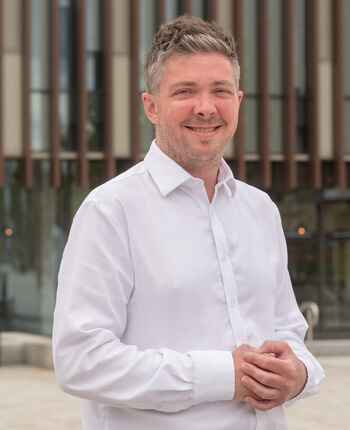 Geoff Green
Registrar and Secretary
Personal Assistant to the Registrar and Secretary
Lisa Mee
lisa.mee@leicester.ac.uk
+44 (0)116 252 2289
Biography
As Registrar and Secretary, Geoff is head of the University's academic administration, including research and enterprise, education, library, student services and strategic planning. He has overall responsibility for the University's partnership with the Students' Union. He is secretary to University Council and University Senate, responsible for the overall governance of the University.
Geoff joined the University in 2009 as Director of Administration in the College of Science and Engineering, moving onto the roles of Director of Student Systems, Director of Policy, Planning and Change, and then Academic Registrar in 2015. Prior to this Geoff worked for nearly ten years at The Open University in a range of roles at school and university level, including a secondment to Oxford University. He started his career in further education, supporting adult education courses.
Geoff is a member of the Executive Board, Senior Leadership Team, and Professional Services Executive Group. Outside the University, Geoff is a member of the HE Advisory Panel for the Office of the Independent Adjudicator (OIA). He is also an active member of the Association of University Administrators (AUA) and Association of Heads of University Administration (AHUA).