George Davies Centre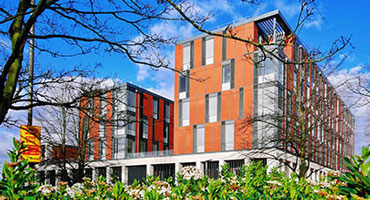 Completed in September 2016, the George Davies Centre represents a unique opportunity to bring together world-leading medical research and medical education under one roof and to produce doctors who are able to deliver high quality care in an effective and compassionate manner in a rapidly changing environment.
At £42 million, the centre is the largest investment in medical teaching and applied research by any UK university in the last decade. It has been designed to help to meet the demand for more capable and caring doctors and also to house applied research that will be at the forefront of improved patient safety and the fight against chronic disease.
The building houses staff and students from our Medical School, Department of Population Health Sciences and School of Psychology and Vision Sciences.
Passivhaus
The George Davies Centre is not only a fine addition to the campus architecture and a comfortable, modern location in which to teach, learn and work. It is also a record breaker: officially the largest non-residential Passivhaus building in the UK.
Passivhaus is a set of standards relating to energy efficiency, air quality and other environmental factors which can be applied to new buildings. The concept was invented and defined in 1988 with the first Passivhaus buildings constructed in Darmstadt two years later. The Passivhaus Institut was established in 1996 to promote the standards and award certification to projects which meet them.
Most large Passivhaus projects are residential buildings. No-one had previously attempted to meet the standard with a non-residential building comparable to the George Davies Centre, which provides 12,836m2 of teaching facilities, offices, laboratories and support spaces for more than 2,350 staff and students (including two lecture theatres of approximately 200 and 300 seats).
Features of the George Davies building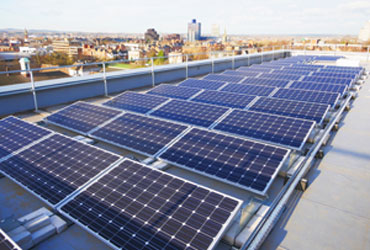 The ground to air heat exchange (GAHE) system is a network of subterranean pipes totalling 1.6km. Because the ground temperature is a constant 14o C, the fresh air passing through the GAHE system to provide ventilation cools the building in summer and warms it in winter.
The building is fitted with ten air handling units (AHUs) which were designed specially as no suitable units existed on the market. Situated at the top of the two atria, the AHUs capture rising heat during the winter and redistribute it to cooler parts of the building.
External, concealed, automated blinds maximise solar shading while allowing outside views. These blinds can also be operated manually if required.
A 'living wall' and green roof provide insulation, rainwater run-off and a fantastic environment for local wildlife.
Large, triple-glazed windows provide excellent thermal insulation and combine with the two atria to allow plenty of daylight to penetrate the building. The windows can even be opened for natural ventilation without affecting the building's overall efficiency.
140 solar panels generate about 30,000 kWh of electricity every year. The building is also connected to the city's low carbon, gas-fired, combined heat and power (CHP) system.
Key efficiencies
EPC A rating and benchmarked against Part LEnergy consumption - 80kWh/m2
Space heating energy demand - 15kWh/m2
Annual space cooling energy demand - 1kWh/m2
Building envelope - U-values of 0.13W/m2/k
Air permeability - below 1m3/m2/hr
Solar PV - 30,000 kWh per annum
Heat recovery
Ground to air heat exchange
CHP