The University's origins in the Great War
On 11 November 1918, the First World War came to an end and the following day Dr Astley Clarke wrote to the local newspaper to announce the creation of the 'Leicester University Fund' in celebration of peace and for the founding of a university as a memorial. This set in motion a story of teaching, research and social improvement which continues to this day.
A University College in Leicester was an idea which had been brewing among the city's leading figures for a generation, first proposed in 1880 by the Reverend Joseph Wood in his presidential address to the Leicester Literary and Philosophical Society. Since then, members - doctors, lawyers, teachers, ministers, businessmen, many of them with Oxbridge degrees - had often discussed the idea but it was only when Dr Astley Clarke (Cantab, 1892) took over the Presidency in 1912 that serious work began on developing the idea. Nottingham had had a University College since 1881, Birmingham since 1900 - why shouldn't Leicester also provide facility for talented local youth to achieve excellence without having to decamp to Cambridge or Oxford?
Born and educated in Leicester, the son of a prominent local surgeon, Dr Astley Clarke was Honorary Consulting Physician and Consulting Radiologist at Leicester Royal Infirmary. He worked hard throughout his year in office at the Lit and Phil to generate interest and promises of support. Everything was looking very promising - until war broke out.
A part-time soldier since 1910, Astley Clarke was a Lieutenant Colonel in the Royal Army Medical Corps and was swiftly appointed Administrator of the 5th Northern General Hospital, an RAMC unit which took up residence in the former Leicestershire and Rutland Lunatic Asylum next to Victoria Park. The worthies of the Lit and Phil dispersed to military, naval, governmental or medical duties, or else devoted their fund-raising work to the war effort.
Three years later, despite there still being no end in sight to the 'war to end wars', the idea of a Leicester University College was raised once again. On 14 November 1917 - a few days after the Battle of Passchendaele, a few days before the Battle of Cambrai - the Leicester Daily Post told its readers that the city should have "more than a mere artistic war memorial." A better memorial to lives lost and ruined, argued the paper, would be the establishment of a University College so that the next generation might achieve better things than their forefathers. Furthermore, a ready made site presented itself.
After the Armistice, the fund-raising campaign took off in earnest, spurred on by a determination to create a 'living memorial' to those who had given their lives. By January 1920, just 14 months after Astley Clarke's first bundle of five pound notes, the total stood at £100,000, including numerous donations by grieving parents and wives in memory of husbands and sons who would never return to Leicester. The 5th Northern General had finally vacated the old lunatic asylum buildings which were promptly bought by local businessman Thomas Fielding Johnson, and just as promptly donated to the council as a site for the University College.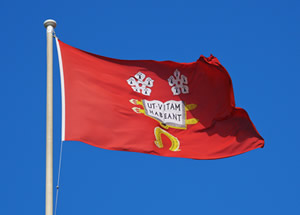 On 4 October 1921, less than three years after Astley Clarke's initial donation, University College Leicester opened its doors with eleven students, three lecturers and the principal, Dr RF Rattray (remembered in the name of a lecture theatre in the centre of campus). A magnificent arch by Edwin Lutyens was unveiled three years later next to the campus as the city's principal war memorial, serving to commemorate the men of Leicester, Leicestershire and Rutland alongside the College, whose motto 'Ut vitem habeant' - 'that they may have life' - is still emblazoned on the flag which flies atop what is now the Fielding Johnson Building.