College House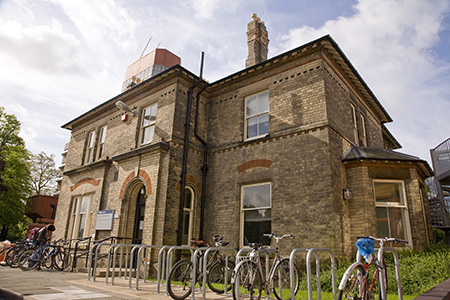 The only building on campus designed for purely domestic purposes, College House was built in 1872 to provide on-site accommodation for the Medical Superintendent of the Leicestershire and Rutland Lunatic Asylum (now the Fielding Johnson Building). The asylum moved to another site in 1908, and College House along with the other asylum buildings was co-opted into military service on the outbreak of war when the 5th Northern General Hospital was based on this site.
With the foundation of University College Leicester in 1921, the newly renamed College House became home to the College's Principal, Dr RF Rattray. When he retired in 1931 the post and this residence transferred to the new Principal, Dr FL Attenborough, who moved in with his wife Mary and their three young sons.
The Attenborough Brothers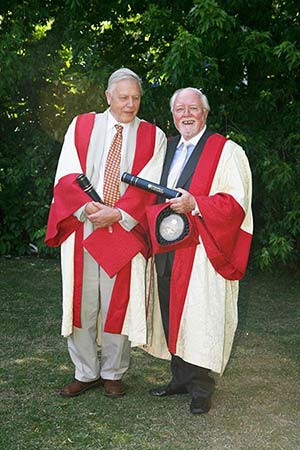 When they first came to College House, Richard Attenborough was eight, David was five and youngest brother John had just turned four. All three boys attended Wyggeston Grammar School for Boys, now Wyggeston and Queen Elizabeth I College, meaning they had a very short walk to school each day.
Richard became interested in the arts and acting, making his stage debut at Leicester's famous Little Theatre (of which his mother was Chair) in 1937. In 1940, at the age of 16, he departed Leicester to serve in the RAF.
David stayed at Leicester throughout the war, eventually going up to Cambridge in 1945 (followed two years later by John). His burgeoning interest in natural history was bolstered by interaction with the College's academics.
Two other children lived in College house at this time. Helga and Irene Bejach were Jewish refugees taken in by the Attenboroughs in 1939 when the girls were nine and eleven respectively. Orphaned by the war, they lived on campus for seven years before leaving to live with their uncle in New York.
Legacy
The Attenborough family moved to Knighton Hall in 1947. Frederick Attenborough retired in 1951 due to ill health, handing the keys of both the Principal's Office and the Hall to Charles Wilson. He died in 1973, predeceased by Mary who passed away in 1961. While raising her sons, she had been a busy JP and helped to found the National Marriage Guidance Council (now called Relate).
Apart from the main staircase, the interior of College House bears little resemblance to the Attenborough family home now. Having once provided accommodation for female students, it has subsequently been the Student Health Centre, University Chaplaincy, Department of American Studies, Department of Urban History and University Careers Service. Campus development plans in 2002 and 2008 both proposed demolishing the building but it has survived and now forms part of the Mathematical Sciences at Leicester.