My Student Journey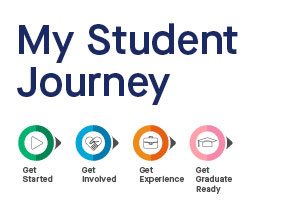 Your future – yours to shape. To help you along the way, you have unique access to the multi-award winning My Student Journey.

Built for you by experts in their field, by leading employers, and by students like you who have studied at Leicester and know first-hand the challenges you face and how to overcome them.

My Student Journey is here to help you develop personal and professional skills.

Everyone's path will be different, but by completing the four stages of My Student Journey, you will graduate with the experience and skills necessary to succeed in the workplace or further study.
The benefits are open to all; it can be accessed online, no matter where you are.
Find out more about each stage:
And at every stage of the journey there's tailored support to help you through workshops and events. You can also book careers appointments, sign up to events and workshops, as well as the latest job opportunities on MyCareers, our online careers portal.
You can also download the MyUoL App and contact useful contacts for any support you may need.