My Student Journey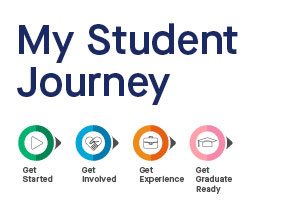 Your future – yours to shape. To help you along the way, you have unique access to the multi-award winning My Student Journey (login required).
Built for you by experts in their field, by leading employers, and by students like you who have studied at Leicester and know first-hand the challenges you face and how to overcome them.
My Student Journey is your route map to developing the right career plan for you and putting it into action.
Everyone's path will be different, but by completing the four stages of My Student Journey, you will graduate with the experience and skills necessary to succeed in the workplace or further study.
To help you along the way, you can get support when you need it. Whether you are looking for the latest opportunities, insights and inspiration, or one-to-one advice, we have you covered.
Find out more about each stage:
Get Started: learn more about your student life and start to plan your future.
Get Involved: meet new people and discover more about yourself.
Get Experience: develop skills and experience to stand out from the crowd.
Get Graduate Ready: whatever your career plans, and no matter what stage you're at, we can help.