Events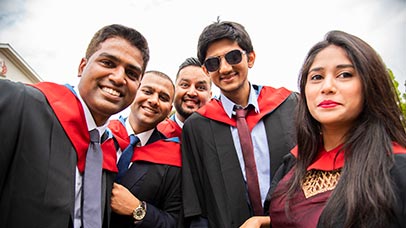 You have access to a range of exclusive events arranged by the University of Leicester and your fellow alumni. Events are open to all alumni: groups and individuals, those who graduated many years ago or recently; you are all welcome at any one of our events.
As an alum you are invited to attend our events all year round. We aim to make any alumni visiting campus feel comfortable and are aware that the site may look different to the last time you visited. Our interactive map (flash) of the University of Leicester enables you to see each building on campus. Detailed information about the accessibility of each building can be found on the Disabled Go website.
Sign up to receive communications from us.
Upcoming events
Festival of Change
Since launching the Festival of Change in October 2020, over 1,300 alumni from 28 countries have joined us for a Festival of Change event. With 91% of alumni saying that they would recommend the event to a friend, we want to let you know about our programme of exciting events we have coming up. Details subject to change.
To hear about when bookings open, ensure you are on our mailing list.
---
Thursday 30 November 2023
Online, 6.00pm - 7.00pm UK time
Dr Robert Wilks
Exposing equality law as it relates to Deaf people: developing Deaf Legal Theory
Bryan and Emery (2014) argue that for 'Deaf jurisprudence' to develop, the current underpinnings of law that are based on incomplete assumptions need to be exposed and to do so, Deaf Legal Theory needs to be applied to particular aspects of the law. In the process, the law's incomplete assumptions of Deaf people will be exposed. This talk aims to demonstrate how alumnus Robert Wilks' doctoral thesis (2020) at the University of Leicester fits under the Deaf Legal Theory umbrella and is an exposé of equality law as it relates to Deaf people.
By attending this event, you will benefit by learning a new field in legal jurisprudence and having a newfound awareness of the issues that Deaf people face in 21st-century Britain.
Learn more about our speaker, alumnus Robert Wilks (Law PhD, 2020)
Originally from Newport, alumnus Dr Robert Wilks (Law PhD, 2020) is a Deaf British Sign Language (BSL) user and teaches through the medium of BSL.
With a BA (Hons) degree in History, Robert commenced his legal training by completing the Graduate Diploma in Law in 2002 and the Legal Practice Course in 2003. He then went on to qualify as a solicitor in 2007 following a secondment to South West London Law Centers and Hugh James Solicitors whilst employed by the Royal Association for Deaf people. Robert is currently a Lecturer in Professional Law at Cardiff University after teaching at the University of South Wales for eight years.
On an academic level, he achieved an LLM with Distinction in Law of Employment Relations with the University of Leicester in 2007 and was awarded a doctorate in 2020 by the University of Leicester, exploring whether equality law is working for Deaf people and whether sign language recognition will achieve transformative equality. Robert's specialist area of law is Equality Law and Employment Law, and his current research interests are the impact of sign language recognition, deaf education, disability discrimination and equality law and developing Deaf Legal Theory.
---
Alumni Awards Dinner
Alumni and Friends Christmas quiz
It's that wonderful time of year again, and we are thrilled to invite you to our annual Alumni and Friends Christmas quiz on Thursday 7 December 2023! So, put on your Christmas jumper, get your Christmas cocktail, mocktail and mince pies at the ready and join us for a fun evening, filled with Christmas quizzes and entertainment!
Venue
Date
Thursday 7 December 2023, 6.00pm - 7.00pm
Solo visitor scheme
Are you attending an event alone? We want to ensure that our events are welcoming and accessible to all attendees and with this in mind, are launching a new solo visitor scheme. If you wish to attend an event as a solo visitor and would like to see a friendly face when you arrive, drop us an email in advance to alumni.relations@leicester.ac.uk and let us know you are attending. One of our friendly staff members will introduce themselves to you via email beforehand and be present at the event to greet you.