Events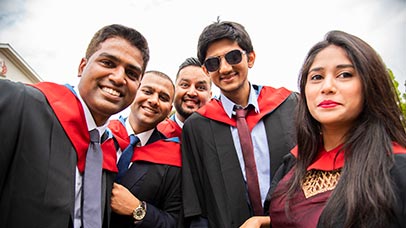 You have access to a range of exclusive events arranged by the University of Leicester and your fellow alumni. Events are open to all alumni: groups and individuals, those who graduated many years ago or recently; you are all welcome at any one of our events.
As an alum you are invited to attend our events all year round. We aim to make any alumni visiting campus feel comfortable and are aware that the site may look different to the last time you visited. Our interactive map (flash) of the University of Leicester enables you to see each building on campus. Detailed information about the accessibility of each building can be found on the Disabled Go website.
Sign up to receive communications from us.
Upcoming events
Festival of Change
Since launching the Festival of Change in October 2020, over 1,300 alumni from 28 countries have joined us for a Festival of Change event. With 91% of alumni saying that they would recommend the event to a friend, we want to let you know about our programme of exciting events we have coming up. Details subject to change.
To hear about when bookings open, ensure you are on our mailing list.
Thursday 15 June 2023
Online, 6.00pm - 7.00pm UK time
Dr Marta Mangiarulo
Freedom of speech and local democracy: new challenges and opportunities (remember the Handforth Parish Council meeting?)
Speakers' Corner Trust is a charity that promotes free expression, public debate and active citizenship. During this one hour alumni exclusive Festival of Change event, join Dr Marta as she shares the main aims and activities of the charity. Using the findings from a case study they published in 2021 which saw the Trust eager to establish the potential impact of the three national lockdowns and as a result conducted an online survey of English councils and local democracy reporters.
Did councillors enjoy their online meetings? How did they deal with using these virtual platforms? Will we go back to face to face or are Zoom council meetings here to stay?
By attending this one hour online talk, you can expect to learn about the Speakers' Corner Trust and its three streams of activity: advocacy for freedom of speech and civil society, online debates open to all, and grants to support local debating events.
Learn more about our expert speaker, Dr Marta Mangiarulo
Dr Marta Mangiarulo is a Research Assistant and Teaching Fellow with research interests in judgment, decision making, and reasoning biases. From 2015 to 2019, Marta carried out her PhD in Cognitive and Brain Sciences at the University of Trento, Italy, following earlier Bachelors and Master's degrees in Psychology at the University of Milano-Bicocca. Since 2019, she has worked as a research assistant in the Judgment and Decision-Making group in the School of Psychology and Vision Sciences at the University of Leicester. Since 2021, Marta has worked as a Teaching Fellow in the same School, delivering teaching at undergraduate level and undertaking pedagogical research on Virtual Learning Environments (VLEs).
---
Thursday 10 August 2023
Online, 6.00pm - 7.00pm UK time
Renat Bekturov
Title TBC
---
Thursday 12 October 2023
Online, 6.00pm - 7.00pm UK time
Dr Sandy Kilpatrick
Fuels, Plastics and Vodka Martinis: How Chemists Seek To Turn Captured Carbon Into Useful Products
The excessive burning of fossil fuels has led to a rapid rise of atmospheric CO2 levels since the industrial revolution, triggering catastrophic environmental issues and the global energy crisis. The capture and conversion of CO2 into valuable products is an increasingly urgent field of scientific interest and is also gaining attention from the chemical industry.
This Festival of Change talk highlights the discovery of catalysts designed to utilise CO2 as a cheap and renewable source of carbon, to produce everyday products more sustainably... products like jet fuel, polymers, and even alcoholic drinks.
By attending this talk, you will learn the underlying chemistry behind the notorious climate changing molecule, CO2. How does so much CO2 get released? Why is this such a problem on a global scale? How can we capture and utilise CO2 for greener chemical processes in the future?
Expect real live chemistry demonstrations (yes, fire) to be enjoyed from the comfort of your screen!
Learn more about our expert speaker, Dr Sandy Kilpatrick
Dr Sandy Kilpatrick obtained his MChem in 2009 from University of Oxford (UK) including an MChem project with Professor Philip Mountford on chromium heteroscorpionate complexes for olefin oligomerisation. He was awarded his PhD in 2014 from the University of Sussex, where he studied the bimetallic complexes of d- and f-block metals with pentalene ligands under the supervision of Professor Geoff Cloke FRS.
Sandy subsequently joined the group of Professor Dermot O'Hare at the University of Oxford (UK) as a Postdoctoral Research Associate, working on solid supports for slurry-phase ethylene polymerisation in collaboration with SCG Chemicals (Thailand). In 2015, Sandy was awarded a R.J.P. Williams Junior Research Fellowship at Wadham College, for work on multi-decker zirconium sandwich complexes and surface organometallic chemistry.
In 2018 he moved to the Humboldt University of Berlin (Germany) in the group of Professor Dr Christian Limberg as a Bayer-Humboldt Research Fellow, investigating low-valent nickel complexes for small molecule activation.
In 2020, Sandy launched his independent career as a Lecturer in Inorganic Chemistry at the University of Leicester (UK). His current activities are focused on the synthesis and reactivity of multimetallic transition metal complexes inspired by CO2-fixing enzymes.
---
Thursday 30 November 2023
Online, 6.00pm - 7.00pm UK time
Dr Robert Wilks
Exposing equality law as it relates to Deaf people: developing Deaf Legal Theory
Bryan and Emery (2014) argue that for 'Deaf jurisprudence' to develop, the current underpinnings of law that are based on incomplete assumptions need to be exposed and to do so, Deaf Legal Theory needs to be applied to particular aspects of the law. In the process, the law's incomplete assumptions of Deaf people will be exposed. This talk aims to demonstrate how alumnus Robert Wilks' doctoral thesis (2020) at the University of Leicester fits under the Deaf Legal Theory umbrella and is an exposé of equality law as it relates to Deaf people.
By attending this event, you will benefit by learning a new field in legal jurisprudence and having a newfound awareness of the issues that Deaf people face in 21st-century Britain.
Learn more about our speaker, alumnus Robert Wilks (Law PhD, 2020)
Originally from Newport, alumnus Dr Robert Wilks (Law PhD, 2020) is a Deaf British Sign Language (BSL) user and teaches through the medium of BSL.
With a BA (Hons) degree in History, Robert commenced his legal training by completing the Graduate Diploma in Law in 2002 and the Legal Practice Course in 2003. He then went on to qualify as a solicitor in 2007 following a secondment to South West London Law Centers and Hugh James Solicitors whilst employed by the Royal Association for Deaf people. Robert is currently a Lecturer in Professional Law at Cardiff University after teaching at the University of South Wales for eight years.
On an academic level, he achieved an LLM with Distinction in Law of Employment Relations with the University of Leicester in 2007 and was awarded a doctorate in 2020 by the University of Leicester, exploring whether equality law is working for Deaf people and whether sign language recognition will achieve transformative equality. Robert's specialist area of law is Equality Law and Employment Law, and his current research interests are the impact of sign language recognition, deaf education, disability discrimination and equality law and developing Deaf Legal Theory.
---
Alumni Awards Dinner
Alumni and friends day
Visit your campus with friends and family for a day of free activities aimed purely at Alumni.
Venue
University of Leicester campus.
Date
Saturday 30 September 2023 (TBC).
Alumni annual meeting
Led by the Alumni Association Committee, the Alumni meeting will provide a space for all alumni to share their views, which will ultimately help us to continue to support our global alumni community in the best way possible. You will also hear about alumni activities that have taken place across the last year, as well as future news and events that are on the horizon over the next 12 months.
Venue
Date
Alumni Christmas quiz
Dust off your Christmas jumper and join us on campus or online as we kick off the festive season with Christmas quizzes, carols and canapés!
Venue
Date
Thursday 30 November 2023 (TBC)
Solo visitor scheme
Are you attending an event alone? We want to ensure that our events are welcoming and accessible to all attendees and with this in mind, are launching a new solo visitor scheme. If you wish to attend an event as a solo visitor and would like to see a friendly face when you arrive, drop us an email in advance to alumni.relations@leicester.ac.uk and let us know you are attending. One of our friendly staff members will introduce themselves to you via email beforehand and be present at the event to greet you.