Reunions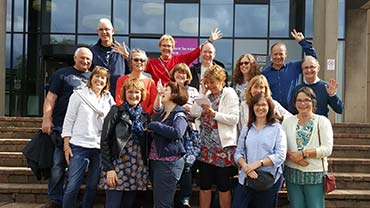 It's never too late to reunite. The Alumni Engagement Team can help you organise reunions if you would like to get back in touch with your peers and walk down memory lane by returning to campus. We'll spread the word, book campus tours, and even recommend things to do around the city.
Get in touch with the Alumni Engagement Team for reunion support.
Organise your reunion at Leicester
Reunions are a fantastic way to reconnect with friends, flatmates and colleagues from your time at the University of Leicester, as well as to see how much the campus as changed over the years. This guide will outline the steps we recommend you consider if you would like to host a reunion.
Choosing a date
When selecting a date for your reunion we recommend firstly considering what activities you would like to undertake. For example, if you would like to meet with an academic, it may be best to avoid a weekend when they are unlikely to be working. You should also consider student term times if you want to visit a bustling campus or the Student's Union food outlets (these may close during out of term times).
We recommend planning at least six months in advance as this gives you plenty of time to get the details organised.
Each year the Alumni Relations team organise the Alumni and Friends Day, typically in late September or early October. We recommend alumni consider hosting their reunions to coincide with this day as there will be a range of activities, lectures and tours occurring already and a great bustling atmosphere. Please get in touch with the Alumni Relations team (alumni.relations@leicester.ac.uk) to find out what date this is planned for.
Locations
There's lots of options available to you when choosing a venue to host your reunion. You should consider what type of event and format you prefer such as a formal evening dinner, or a casual gathering - this will of course have an impact on cost. It may be that you want to visit several locations, so you may also need to consider travel and parking arrangements.
Reunions can also be held online using Microsoft Teams, Zoom or Skype.
Decide on your activities
There are lots of different activities you could choose for your reunion.
Volunteering
If you would like to be involved in a volunteering project for your reunion, such as helping out at the Botanic Gardens, we can arrange this for you.
Attendance at pre-existing events
You could time your reunion with events we are already hosting such as Alumni and Friends' Day, or something else taking place in the city.
Meeting with an academic member of staff
If you would like to meet with an academic member of staff, please do let us know a few months in advance so we can help to get this scheduled for you.
Guided / Self-Guided Campus tours
Let us know if you would like a campus tour and we can arrange this for you – please note that buildings may be closed out of term or at times such as exam season. If there is a specific building you would like to access, please do let us know and we will try to make sure this is possible.
If you would prefer to go around campus on a self-guided tour, you are able to do so. You can listen to brief narrations about various buildings on campus by Michael Attenborough CBE as you stroll around campus; these narration are available on the podcasts section of our website.
Make a weekend of it
There are many attractions in Leicester that you may want to visit whilst you're in town. Some of them may be nostalgic, some may be new:
Inviting attendees
Attendees could be people you lived with in halls, course mates or society friends. If you are struggling to find contact details for your attendees, you may wish to utilise our contact service. This service is a way for alumni to reconnect by requesting to be put into contact. Whilst we cannot share contact details, we can get in touch with alumni on your behalf and, if they agree, can then put you in touch.
We can also submit a data request on your behalf to search through our records to find specific groups of alumni. E.g. those who graduated from Engineering in 1989. Once we identify suitable alumni, we can reach out to them on your behalf.
If you would like to invite a staff member or academic, do let us know and we can put you in touch.
Advertising your event
We can support you to advertise your event by posting on our social media channels. If you would like us to do so, please send us an email (alumni.relations@leicester.ac.uk) with a brief message you would like us to share. We may also be able to place a small ad in our alumni newsletter.
Support from the Alumni Relations team
If you need any advice or guidance, please do not hesitate to reach out to us at alumni.relations@leicester.ac.uk. We will endeavour to support as much as possible, but please keep in mind that how much support we can provide will vary dependant on staff availability.
Other considerations
You may wish to set up an online group such as a WhatsApp group chat or Facebook group, as this will help you keep your guests up to date. You can also run polls using these sites to help you make decisions such as where to go for dinner.
We have published a risk assessment (docx., 81kb) for alumni who are organising their own events off campus which we recommend you have a look over.
Do ensure you have considered the needs of your attendees, e.g. accessibility and dietary requirements.
If you are taking payment from attendees to reserve a venue for example, we do recommend collecting this beforehand to ensure you will not be out of pocket. (Please note that the Alumni Relations team won't be able to provide any funds for alumni led reunions).
Need somewhere to stop over for the night? Access our exclusive alumni benefit for stays at College Court.
During the event
Bring a camera- it's a great idea to take lots of photos to capture the memories.
Consider creating a visitor book for your attendees to write in or bring along a year book.
Finally, make sure to have fun and enjoy yourself!
After the event
Once your reunion is finished, please do get in touch and let us know how this went - any photos of the event are also much appreciated! If possible, let us know how many people attended and their names.
Do ensure that you have permission from the attendees before sharing their names and photos.
You may wish to consider sending out a thank you to those that attended.
It is 60 years since we dragged our suitcases and trunks down Manor Road from the station and first encountered our new home in Shirley House. My impression then was not with the Arts and Craft architecture and décor, which I now have the knowledge to appreciate, but with the fact that there was central heating, no more ice on the inside of the window panes! Fast forward to the sunny summer of 2022 and walking round Shirley and it's gardens was a very moving experience and then to be allowed into the house itself and look at our old rooms was an added bonus. The University had kept them in good condition with the original décor in place but no sharing! We were three to a room. However, we did leave the students with a new tree which we planted in the garden to commemorate the University's Centenary and our own residency at Shirley.
I just wanted to say a big thank you from me, Pete, Graham, Tony, Steve and Ron, for all your help - both leading up to and on Saturday. We all thoroughly enjoyed it. As you probably gathered, we'd all had an absolutely fabulous time at Leicester and at Beaumont in particular, and it was great to see the campus and hall again. Thanks too to Vicky and the garden staff for arranging the tree for our friend, Keith. The location is perfect. We'll be sending photos to his family.
A New Year's resolution posted on Facebook to get back in touch face to face with old friends led to the decision to hold a 40 years since graduation reunion. So the day came and a few of us met for lunch at The Craddock Arms (of course). A stroll down Queens Road to the University brought back many memories. In the evening, we gathered in the old JCR bar for drinks and then had a superb buffet in the old dining room. More drinks in the JCR bar, where we recreated some old photos, and then off to The Craddock Arms for a nightcap. A big thank you to the College Court staff and the Alumni Team for making the reunion such a special time. It was a memorable reunion with an opportunity to catch up with everyone and for old friendships to be rekindled. And now to start planning the next one!