Reunions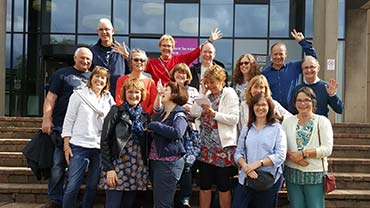 It's never too late to reunite. The Alumni Engagement Team can help you organise reunions if you would like to get back in touch with your peers and walk down memory lane by returning to campus. We'll spread the word, book campus tours, and even recommend things to do around the city.
Get in touch with the Alumni Engagement Team for reunion support.
It is 60 years since we dragged our suitcases and trunks down Manor Road from the station and first encountered our new home in Shirley House. My impression then was not with the Arts and Craft architecture and décor, which I now have the knowledge to appreciate, but with the fact that there was central heating, no more ice on the inside of the window panes! Fast forward to the sunny summer of 2022 and walking round Shirley and it's gardens was a very moving experience and then to be allowed into the house itself and look at our old rooms was an added bonus. The University had kept them in good condition with the original décor in place but no sharing! We were three to a room. However, we did leave the students with a new tree which we planted in the garden to commemorate the University's Centenary and our own residency at Shirley.
I just wanted to say a big thank you from me, Pete, Graham, Tony, Steve and Ron, for all your help - both leading up to and on Saturday. We all thoroughly enjoyed it. As you probably gathered, we'd all had an absolutely fabulous time at Leicester and at Beaumont in particular, and it was great to see the campus and hall again. Thanks too to Vicky and the garden staff for arranging the tree for our friend, Keith. The location is perfect. We'll be sending photos to his family.