Wherever in the world you are coming from, here you will find the advice you need to make sure you are fully prepared before you arrive and so you can settle in once you start.
International student top tips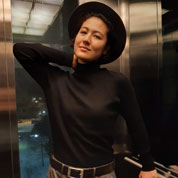 Shahla travelled to Leicester from Finland. Here are her top tips for International students:
Remember to register with the University.
Bring some items that would remind you of home/your friends. This can be helpful when you inevitably feel homesick sometimes. View our list of things to pack.
Leicester provides free bus services from Heathrow and Birmingham airports to Leicester, definitely look into their timetables and book a slot. Its free and really makes moving so much easier
Local shops (like B&M and Primark) provide cheap essential items such as bedding, utensils, dishes and cleaning tools. I'd recommend buying these ASAP because it will start making you feel more at home when you have your own things.
Remember to check out the societies fair during Welcome Week, as I found the best way to make friends was to join a society. Every society usually have couple of trial sessions for you to try them out and see if you like it.
Make the most of our free ResLife activities if you're living in accommodation. It's free, everyday, and also a great way to meet people from the accommodation and make friends.
Leicester is quite convenient and the shuttle bus from campus to accommodation is free. However if you do need to get the bus in the city, download the Arriva bus app - you can find all the bus schedules and buy tickets on it.
Leicester as a city is located very centrally - it's very easy to take day trips to Nottingham, Birmingham, and London. You can either take the train or National Express. If you use the train download the Trainline app, it's very handy.
If you use the train and bus a lot, consider getting a Railcard and Coachcard.
Get an umbrella!
Most importantly, in my experience, the best way to understand and embed into British culture has been making lots of friends from the UK. They've lived and breathed the life here and so they're able to offer you the "British perspective" and way of life!