Rajinder Bhuhi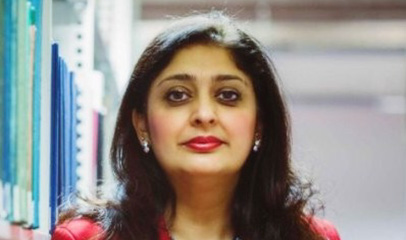 Rajinder Bhuhi is a business leader with a wealth of experience leading and managing the delivery of innovation growth programmes (activities and engagement events), employability (skills development and industrial placements)and entrepreneurial and incubation support (accelerator programmes). Her focus is on developing collaborative relationships with businesses and delivery partners to facilitate the growth ambitions of businesses and the launch of scaling start-ups through the development of innovative products, services, and processes.
One of her areas of expertise is supporting business collaboration and fostering connections within the local ecosystem, including national and international links. She has successfully designed and worked with businesses through a number of frameworks designed to support innovation development, including 'Design Thinking' process. Through this support 300 innovation projects, in collaboration with businesses and start-ups, have been delivered since 2017. In addition to her role in innovation development, Rajinder has led programmes that have engaged over 4,000 students and graduates in activities focused on innovation, entrepreneurship, and start-up support. Rajinder has over 20 years of experience in business coaching, providing support to both existing and early-stage businesses and entrepreneurs.
Rajinder is a proactive advocate for making the 'Midland's Region' an ideal place for doing business and starting new ventures. In addition to her previous role in establishing the Leicester Innovation Hub and successfully delivering several funded programs (totalling £7.6m) at the University of Leicester, she is a Co-Founder and Director of the Leicester Startups CIC Team, a community interest company/social enterprise dedicated to supporting existing and aspiring entrepreneurs since 2013. Leicester Startups organises and promotes mentoring, talks, advice, collaboration, accelerator programs, and workspace offerings with a "give first" ethos. They also facilitate engaging networking events, seminars, mentoring sessions, and hackathons to bring the entrepreneurial community closer together.
Rajinder and colleagues from the Social Impact Team launched the award winning 'Innovation for Good Programme' in 2018. The programme focuses on equipping students with the skills to drive and deliver impactful sustainability support to businesses in achieving their net-zero ambitions. Innovation for Good has expanded and is now active in all three universities in the Leicestershire region, including embedding it within the curriculum as an established module at the University of Leicester.
Rajinder remains committed as a Board member supporting SHINE Together CIC and their Women's Awards, and together with a number of colleagues in the region is pushing for an inclusive ecosystem that is enabling access to funding and finance for entrepreneurs and founders of all backgrounds.