Who was Richard III?
Richard III was born on 2 October 1452 at Fotheringhay Castle in Northamptonshire to Richard, Duke of York and Lady Cecily Neville. York, a potential claimant to the throne, was frequently in opposition to the rule of Henry VI (descended from the Dukes of Lancaster). The following thirty years of instability and civil war between the Yorkists and Lancastrians is commonly labelled the 'Wars of the Roses'.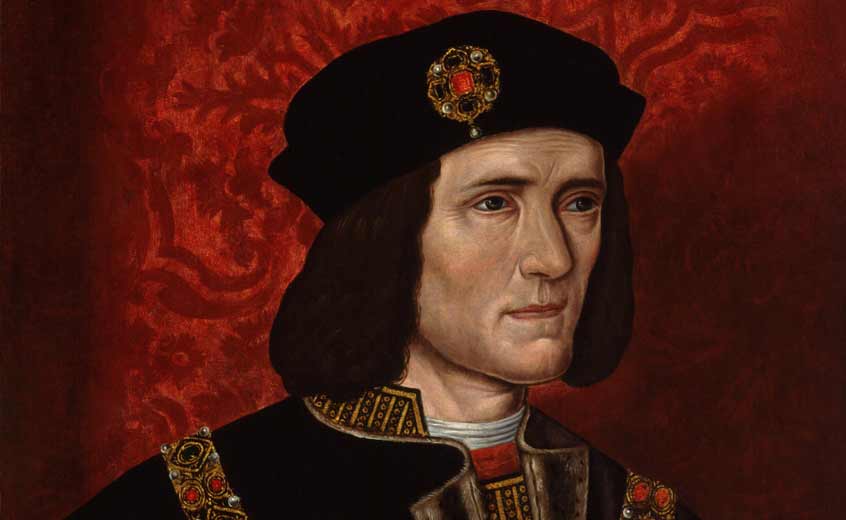 Richard III by an unknown artist; oil on panel, late 16th century. NPG148 © National Portrait Gallery, London.
Richard's young life was dominated by this unrest. In 1460, at eight years old, Richard and his older brother, George, escaped to the Low Countries (Netherlands and Belgium) following the deaths of their father and elder brother, Edmund at the Battle of Wakefield. They returned to England a year later following the defeat of the Lancastrians at the Battle of Towton, and participated in the coronation of their eldest brother, Edward IV. Shortly after, Richard was made Duke of Gloucester.
In 1465 Richard, aged thirteen, entered the household of his cousin Richard Neville, Earl of Warwick, to complete his education, learning the skills required to become a successful soldier and statesman. Much of this time was spent at Middleham in Yorkshire where he probably met his future wife, Warwick's younger daughter, Anne Neville.
In 1470 Warwick, along with Richard's brother George, rebelled, successfully restoring Henry VI to the throne. Edward IV and Richard were forced to seek refuge, returning again to the Low Countries. However, the following year Edward IV defeated and killed Warwick at the Battle of Barnet and defeated the Lancastrians at Tewksbury, ending the conflict. Richard played a crucial role in both battles and was slightly wounded at Barnet.
On 9 April 1483 Edward IV died, leaving his 12-year-old son, Edward V, to succeed him. Richard immediately took charge of his nephew, assuming the protectorship of the realm. Edward V and his younger brother, Richard, were housed in the royal apartments at the Tower of London.
Richard postponed the coronation. Events then moved rapidly. Richard's claim to the throne was publicised in London on 22 June. It was asserted not only that Edward IV was illegitimate but also that his sons were illegitimate on the grounds that Edward had a pre-contract of marriage to another woman before he wed Elizabeth Woodville. Richard assumed the throne on 26 June and was crowned ten days later in Westminster Abbey.
Richard III's reign was short, lasting just over two years. His nephews soon disappeared from sight and contemporaries came to believe that they were dead. Opposition to Richard's rule grew, coalescing around Henry Tudor, the last Lancastrian claimant to the throne (then exiled in France). By 1484 the king was increasingly reliant on a small group of associates and the threat of insurrection overshadowed his reign.
Finally, in 1485, the long-awaited invasion occurred, and Richard successfully forced a confrontation with the rebels near the town of Market Bosworth in Leicestershire. On 22 August, Richard's greater force met Henry Tudor's army in battle in what was to become a pivotal moment in English history. Richard was slain, leaving Henry victorious as King Henry VII. Richard's body was brought to Leicester and after a short period of public display, he was buried in the choir of the Grey Friars church.
See more about Richard III's connection with Leicester