Visits to Leicester
Richard III visited Leicester often, both as a boy and as Duke of Gloucester. Despite the town's longstanding Lancastrian connections, in the mid-15th century it sided with the House of York, loyally supporting it through the Wars of the Roses, and it remained in high favour with both Edward IV and Richard III. When king, Richard stayed in Leicester at least five times, twice at Leicester Castle in 1483, at Leicester Abbey in 1484 and once in 1485 shortly before his death. Little remains above ground of the medieval town that Richard III would have known, but archaeological work around the city is gradually providing more and more information on what it would have looked like and you can find out more about the Story of Leicester here.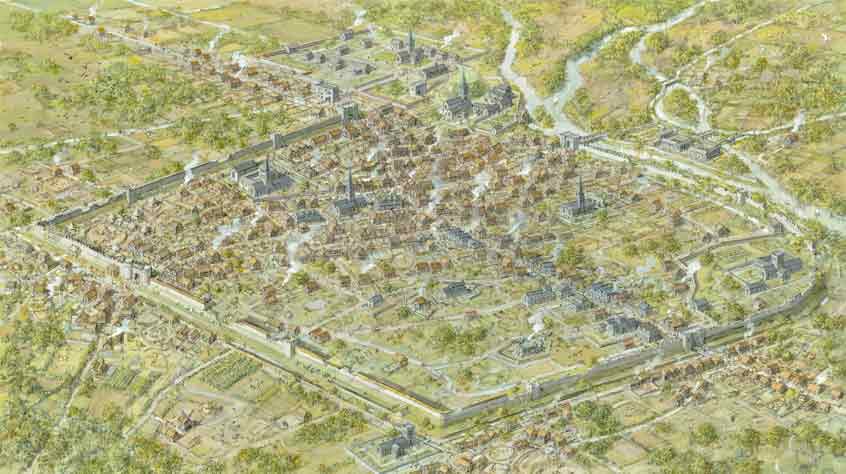 A bird's-eye view of medieval Leicester from the north-east, as it may have looked in the late 15th century. Artwork: Mike Codd.
Richard's final stay in Leicester was for one or two nights on 19 and 20 August 1485. Tradition says that he lodged at the Blue Boar Inn, a large, modern (for the time) establishment which stood on Leicester's old High Street (now called Highcross Street), appropriately close to where a Travelodge stands today. The chronicler Edward Hall, writing in 1542, described the kings arrival in Leicester: 'Then he [Richard III] with a frowning countenance and truculent aspect mounted on a great white courser [horse]… with great pomp entered the town of Leicester after the sun set.'
Richard III rode out from Leicester on Sunday 21 August. A chronicler writing in 1486 described his departure: 'the king proceeded on his way, amid the greatest pomp, and wearing the crown on his head; being attended by John Howard, Duke of Norfolk, and Henry Percy, Earl of Northumberland, and other mighty lords, knights and esquires, together with a countless multitude of the common people.'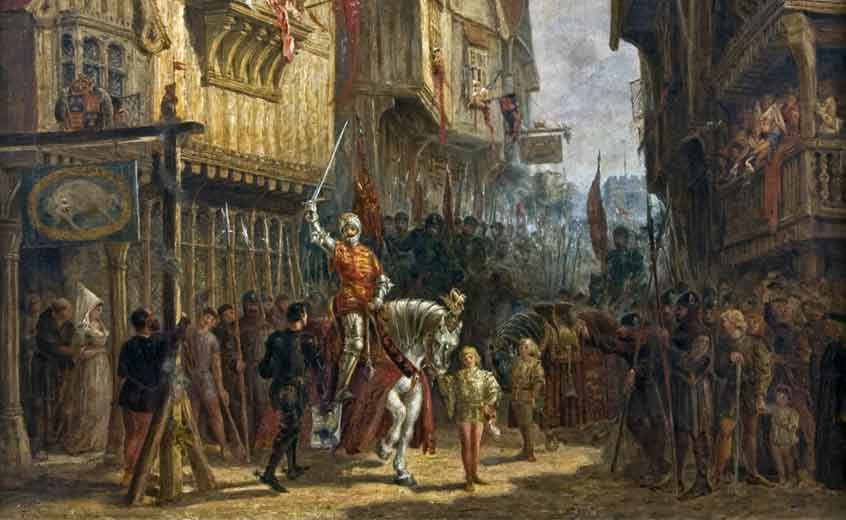 Richard III outside the Blue Boar Inn in Leicester. Oil on canvas, painted by Leicester-born artist John Fulleylove in 1880.
See more about Richard III's connection with Leicester