JWST Engagement and Outreach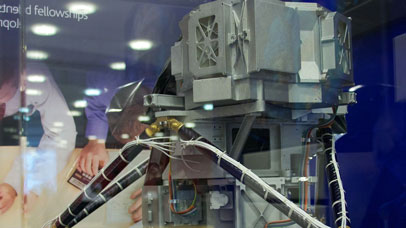 Leicester scientists and engineers are part of a UK JWST consortium of public engagement and outreach specialists, and you can follow all the latest developments via Twitter (@webbtelescopeuk). Learn more about the science and technology behind JWST.
View profiles of two members of the Leicester JWST team, planetary scientist Naomi Rowe-Gurney and mechanical engineer Piyal Samara-Ratna via Vimeo.
A variety of educational resources are available for primary schools, secondary schools, engagement specialists and the general public via WebbUK and via the European Space Education Resource Office for the UK (ESERO-UK). Paper models of JWST are available for download and building, and you can also try your hand at a LEGO model (PDF) of the telescope.
Two scale models of MIRI are on display in the Physics and Astronomy Building and the Space Research Centre at the University of Leicester.