Research degrees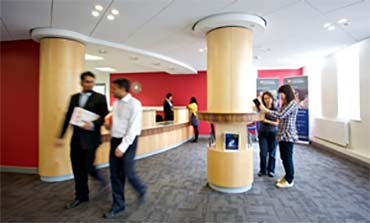 Leicester Law School has an established reputation as one of the leading law schools for research in the United Kingdom.
We are consistently ranked among the top universities and law departments in the country on the basis of our outstanding research and consistent levels of student satisfaction. We offer a productive and stimulating learning environment, which attracts students and academics from all over the world. We have one of the most international student populations in the UK, and our academic staff are drawn from more than 20 countries.
Studying with us
As a research degree student at Leicester Law School, you'll have access to:
PhD study areas: a study room with computers and online facilities exclusively for research students
Photocopying and printing allowance: access to photocopying and printing facilities at no cost
Postgraduate seminars: you will be able to attend a number of seminars offered on the LLM programme (you will be required to prepare for seminars, but you will not be assessed)
Law school seminars and conferences: you will be invited to attend various staff seminars and guest lectures during the academic year (see our events page for details of forthcoming events)
Student support: regular contact with your supervisor and postgraduate research tutor within the school. At University level, the Student Welfare Service and Accommodation Office can offer more general advice and support
Research skills training programme
You'll also have access to our research skills training programme. Your individual training requirements will be assessed by your supervisor and the postgraduate research tutor, and a training programme will be developed to meet your needs, designed to give you the necessary skills to enable you to pursue doctoral level research both successfully and independently.
In addition to more generic skills such as information retrieval and planning, you will receive a thorough introduction into the theoretical and methodological questions that will allow you to complete your thesis.
Research students are required to attend legal research training seminars and workshops and the Graduate Conference. This training teaches researchers to conduct legal research independently at the highest academic level.
Research training will be delivered at three separate residential training weeks. The training weeks are usually in November and January. The Graduate Conference is held in spring across a period of one to three days.