About the Department of Genetics and Genome Biology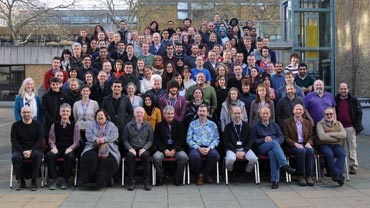 The Department of Genetics was founded in 1964 and has steadily grown over the years - it now has 208 members of staff and PhD students.
Since 1968 we have been based in the Adrian Building on the University of Leicester's main campus. We are part of the College of Life Sciences.
Visitors can view a series of photographs (in the departmental office suite, on the 2nd floor) which show how we have grown over the past five decades and become increasingly diverse, with students and staff from across the globe.
There have been 11 Heads of Department, but our most well-known academic is probably Professor Sir Alec Jeffreys, who discovered DNA fingerprinting in 1984. It is a testament to the spirit and collegial atmosphere of the Department that Sir Alec chose to stay in Leicester, despite many offers from prestigious institutes the world over, as have many of our academics and professional services staff.