Facilities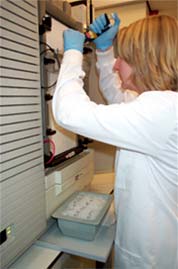 We occupy a recently-refurbished, modern, purpose-built laboratory space, furnished with up-to-date equipment for the latest molecular genetic methods.
We have a central Media Kitchen, communal equipment for routine procedures such as centrifugation, and dedicated specialised facilities for:
Mammalian cell tissue culture
In situ fluorescence
Drosophila genetics, plus micro-injection and behavioural studies
Containment and handling of microbial pathogens
Growth and fermentation of microorganisms
Purification of proteins (including FPLC and HPLC)
Proteomic analysis
Detection of DNA sequence variants (including DHPLC and fluorescent DNA sequencers and genetic analysers)
X-irradiation of biological samples
Real-time PCR
All laboratories are equipped with computers providing facilities for data acquisition, analysis and storage.
The College of Life Sciences has centralised services, available to all, for automated DNA sequencing and oligonucleotide synthesis, as well as peptide synthesis and protein identification and sequencing (Edman degradation and mass spectrometry). The Division of Biomedical Services can carry out all aspects of animal handling including the production of antibodies and transgenic mice.
Other facilities for confocal microscopy, microarrays, electron microscopy (SEM and TEM), biological NMR studies and X-ray crystallography are also available within the College.