News, events and publications
Courses, workshops and events
Centre launch
The launch of the Stoneygate Centre for Empathic Healthcare took place on Wednesday 26 April 2023 at the Sir Bob Burgess Building. The day included a half-day conference and evening celebration.
Centre Director, Professor Jeremy Howick and Emeritus Professor of Psychiatry Education, Nisha Dogra each delivered a plenary lecture. The conference included seven workshops on a range of topics such as effective communication in healthcare settings, fostering empathy through creative arts, and increasing student empathy by involving patients in medical education.
To officially launch the Centre, Professor Sir Jonathan Van-Tam delivered a keynote speech on the important of empathy for public communication of science, and an expert panel (Professor Sue Carr, Jono Broad, Dr Ronx Ikharia and Professor Sir Mayur Lakhani) discussed the role of empathy in the NHS.
---
Visiting scholars
Andrew Miles, Visiting Professor
We are pleased to announce the Centre will welcome Visiting Professor Andrew Miles from September 2023. This offers an exciting opportunity to exchange knowledge and to explore joint research activities and potential future collaboration on research for publication. Professor Andrew Miles is Senior Vice President and Secretary General of the European Society for Person Centered Healthcare.
Dr Andrew Papanikitas, Visiting Scholar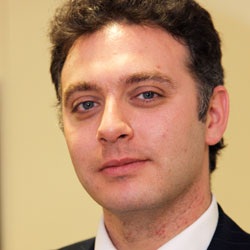 We are looking forward to hosting visiting scholar, Dr Andrew Papanikitas in September and October 2023.
Andrew Papanikitas is current Chair of the Royal College of General Practitioners' Committee on Medical Ethics and a medical doctor, educator and erstwhile academic in Oxford with an interest in professionalism and ethics in healthcare education. He co-edited the BMA medical book award-winning Handbook of Primary Care Ethics (CRC press) and BMA Highly Commended Marketization, Health and Ethics (Routledge) in 2018. He co-directs the Society of Apothecaries' course in philosophy. He teaches students across the entire professional life course, from applicants to medical school through to healthcare leaders. He also teaches on a range of courses at Oxford University and is a Catalyst Fellow at Hull-York medical School. His PhD is on education in ethics of British family doctors. As deputy editor of the British Journal of General Practice, he is responsible for the discussion blog BJGP Life and the Life and Times section of the journal. He volunteers with several local initiatives including the Hospital Clinical Ethics Committee and the Magdalen College School medical careers programme.
He is the proud father of two amazing little girls and tweets in his own capacity as @gentlemedic.