Teaching resources
The Roman world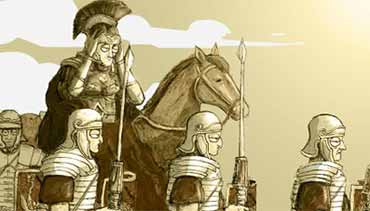 We have written a book for children and teachers: Life in the Roman World: Roman Leicester by Giacomo Savani, Sarah Scott and Mathew Morris. The book is suitable for KS3-5 (11-18). The book is linked to resources entitled Life in the Roman World: Ratae Corieltavorum (Roman Leicester), which are suitable for KS2-3 (9-13).
The book and resources are linked to the national curriculum and can also be used to support the teaching of OCR's GCSE Classical Civilisation and GCSE Latin. The book can be purchased via the University online shop.
Our book and classroom resources are based on the world-class research of Archaeology and Ancient History at Leicester, the excavations and publications of University of Leicester Archaeological Services (ULAS), objects in the Jewry Wall Museum Leicester and the Harborough Museum.
We are providing free classroom sets of the book to schools in Leicestershire and Rutland with the support of Classics for All and University of Leicester Research Impact Funding. If you would like a free set for your school, please email acc-cori@le.ac.uk to book a place on one of our free half-day training sessions, which explain how the book and resources can be used to support national curriculum subjects.
The resources are available for free download, and include session plans, activities and worksheets which explore the culturally plural nature of the Roman world, as well as introducing Latin in the context of the archaeology of Roman Leicester.
Life in the Roman World: Ratae Corieltavorum (Leicester) for KS2-3
Sessions 1-8: Teacher lesson plans and research background
Related classroom materials for Life in the Roman World:
Artefact to Art: KS2-3 resources
Artefact to Art is a competition which encourages creative responses to ancient artefacts. We developed these resources during the first year of the competition (2017-18). Each session explores art and artists in the ancient world.
Making Art in Classical Athens
Art and Power in Imperial Rome
You can also buy a copy of the original Artefact to Art book, featuring poetry and visual art from the 2017-18 competition, inspired by ancient artefacts .
Resources for the history and archaeology of Leicestershire
Richard III