Support for teachers
If you are a teacher looking to bring Classics and/or archaeology into your classroom, find out more about our teaching support offering, which takes various forms as training, consultancy and more, and browse our teaching resources to find material you can integrate into your curriculum.
Classics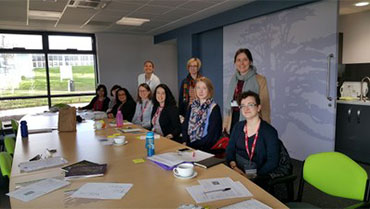 In partnership with Classics for All, we aim to support all teachers of Classics, broadly conceived as including the subjects of Classical Civilisation, Ancient History, Greek and/or Latin, including:
Those seeking to introduce the study of classical subjects to their schools for the first time
Those already teaching classical subjects
We run CPD (Continuing Professional Development) sessions tailored for both groups of teachers.
Our next CPD event will be a day-long workshop on campus at the University of Leicester in autumn 2018. More information will be available on this page soon.
For further information please contact us at acc-cori@le.ac.uk.
Classics education for teachers
Ancient History and Classical Archaeology BA
Our Ancient History and Classical Archaeology BA by distance learning uniquely brings the two disciplines together. It is possible to study up to two level 1 or 2 modules without registering for a formal qualification - ideal if you wish to gain knowledge and experience to support the teaching of Classical Civilisation and Ancient History at GCSE and A-Level.
Languages at Leicester
The University's Languages at Leicester programme offers evening classes and intensive summer schools in Latin and Greek.
Archaeology
Archaeology offers numerous possibilities for developing key concepts and skills, such as an understanding of chronological ordering, an understanding and appreciation of cultural, ethnic and religious diversity, the application and underlying principles of scientific methods and critical reflection on the interpretation of the past. It is an interdisciplinary subject which can complement many areas of the curriculum.
We can provide:
Academic consultancy
Taster sessions (KS2-5)
Resources linked to local archaeological discoveries
Support for archaeology in the curriculum, e.g. the teaching of prehistory at KS2
Student volunteer support for classroom activities
A programme of activities linked to our excavations at Bradgate Park
Archaeology education for teachers
Archaeology BA
Our Archaeology BA by distance learning will introduce you to key themes in the study of archaeology and enable you to further your knowledge of the wide chronological and geographical range of the discipline. You will develop your ability to draw upon appropriate archaeological theories, methods, techniques and concepts in order to develop your understanding of the past through material culture and other residues. It is possible to study up to two level 1 or 2 modules without registering for a formal qualification - ideal if you want to gain knowledge and experience to support teaching of archaeological studies in school.
Archaeology and Heritage MA
We also offer an Archaeology and Heritage MA by distance learning. You will explore in a critical way how archaeologists and others may engage with and interpret archaeological monuments, sites and landscapes to various audiences within 'public archaeology'. The role and value of archaeology in education and society, in the broadest sense, is critically examined, exploring its educational roles in fundamental debates concerning the human condition and who we are, as well as the nature of archaeological record and the past.