Osteology research laboratory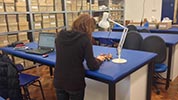 Launched in September 2013 and led by Dr Jo Appleby, the human osteology laboratory is a state-of-the-art facility for research. The lab provides a dynamic environment for students and resident and visiting scholars, with a range of research materials including:
A research and teaching collection of 107 18th/19th century human skeletons from St Mary's Cathedral, Coventry
A research and teaching collection of 60 Roman human skeletons from Western Road, Leicester
Casts to assist in the identification of age, sex and ancestry
A library
St Mary's Cathedral collection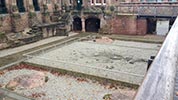 This collection comprises 107 skeletons excavated by Northamptonshire Archaeology in 1999-2000 at the site of an urban cemetery at St Mary's Cathedral, Coventry. The collection has been loaned to Archaeology and Ancient History at Leicester for research and teaching.
The Leicester sample contains 41 males and 34 females representing a diverse range of age groups, from newborn and child skeletons to adults aged 77. Eight of the skeletons in this sample are fully identifiable from death certificates and other records (detailing the year of death, age at death and cause of death). The collection provides an interesting range of pathologies, such as trauma, metabolic bone diseases, infections and developmental disorders. For further information about our holdings, please see our St Mary's collection inventory (Excel file, 26kb). Disarticulated material and associated finds taken from this site provide interesting social data for this teaching and research collection.
Western Road collection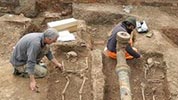 Found in a car park in central Leicester, this collection holds remains from a Roman cemetery dated back to AD 300. The site, excavated by University of Leicester Archaeological Services (ULAS), revealed a range of individuals varying in ages and sexes, buried in a variety of burial traditions with various personal possessions. The collection is a useful resource for understanding life in the Roman period.