Bone laboratory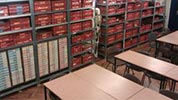 The bone laboratory is dedicated to the study of animal bones from archaeological sites (zooarchaeology or archaeozoology) and the analysis of human skeletal material. Our facilities consist of a newly-refurbished laboratory, with a continually improving teaching collection and a research reference collection which contains over 650 specimens.
Zooarchaeology and human osteology at the University of Leicester are taught formally as part of undergraduate and postgraduate programmes. We also have a strong research community that includes academic staff, post-doctoral and doctoral scholars, an artist in residence, and many students undertaking undergraduate and Masters dissertations, some of whom are studying by distance learning. In addition to formal teaching we also encourage students to undertake voluntary work within the laboratory.
Our close links with University of Leicester Archaeological Services (ULAS) are also reflected in the laboratory. Zooarchaeological analyses as part of developer-funded projects are frequently undertaken using our reference collection and facilities.
Animal bone collections
There are two collections of bones in the bone laboratory:
The reference collection of complete skeletons based on modern specimens (identified prior to preparation)
The index collection (for birds and mammals) which is based on archaeological finds identified by direct or indirect comparison with reference material and modern reference specimens
The reference collection was started in 1982 by Tony Gouldwell as a research and teaching tool for the study of animal bones from archaeological sites. A few specimens had previously been collected by Dr Jan Bay-Peterson. The number of specimens is currently in excess of 650 and we are adding new specimens all the time. Systematic groups represented include fish, amphibians, reptiles, birds and mammals, mostly from Britain and Europe, with a small number of exotics.
You can find information about our holdings by browsing our skeletal inventory (Excel file, 131kb). In addition to information repeated in the specimen labels, notes on acquisition, preparation and distinctive observations relating to the age, sex, size, etc. of the original animal are made where appropriate. If you are interested in exchanging specimens with our laboratory or wish to work with our collection, please get in touch.
Consultancy
Through the animal bone laboratory at the University of Leicester, we offer high quality consultancy services that are delivered through the University of Leicester Archaeological Services (ULAS):
Animal bone consultancy service
Human osteology consultancy service