Research
Animal and meat exploitation strategies during the Late Iron Age: a cross-Channel approach (2015-2017)
Dr Pierre Paris will be joining us from the University of Paris in autumn 2015 on a two-year Fyssen Foundation-funded post-doctoral research project to explore animal and meat exploitation strategies during the Late Iron Age through a comparison of faunal data from southern England and northern France. A social cognitive reading of the supply chain will be undertaken to explore similarities and differences between three selected regions in the UK (Danebury, Leicester and Braughing-Puckeridge) in order to evaluate the relative contribution of cultural and environmental factors in animal exploitation decision-making. A comparison with contemporary Gallic societies of Northern France will allow an innovative cross-Channel approach of social construction mechanisms.
Artist in Residence: Bones as Relics (2014-2015)
Jo Dacombe is working as an artist in residence within the bone laboratory to create a body of work and an exhibition that explores the idea of the value of archaeological bones: how items considered "rubbish" (no value) become "relics" (high value), and to question how we value objects, relics and archaeological items in a contemporary context. Her work is inspired by animal bones or skeletons in our laboratory. Through the residency, Jo will explore ideas both through making and through a series of workshops with local schools and groups to inspire discussion and creative activity around these ideas. The project will finish with an exhibition at Embrace Arts.
About Jo
Jo is an artist based in Leicester. Working in a range of media, she undertakes commissions, public realm projects and self-generated projects. Her work has developed into two related areas: an interest in site-specific work with a socially-engaged practice, as well as an interest in museums, heritage and the use of objects relating to place and community. Jo has worked within educational contexts for many years and is currently an Associate Artist with the Learning Team at Nottingham Contemporary. The Reliquary Project is supported using public funding by the National Lottery through Arts Council England.
Cultural and Scientific Perceptions of Human-Chicken Interactions (2014-2017)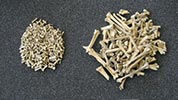 Archaeology and Ancient History at Leicester, together with five project partners (Bournemouth, Durham, Nottingham, York and Roehampton) has been awarded £1.94 million from the AHRC (under the Science and Culture scheme) to pursue a large grant research project, entitled 'Cultural and Scientific Perceptions of Human-Chicken Interactions'.
The chicken is native to Southeast Asia but over the last 8,000 years it has been transported by people around the world - no other livestock species is so widely established: today there are over 20 billion worldwide. The chicken's eastward spread from Asia to the Americas has been the subject of many studies; however, its diffusion to the West has received much less attention. There have been a few small scale surveys documenting the spread of chickens across Europe but there has been no comprehensive review about the rapidity of the spread and its cultural and environmental impacts. No ancient (and little modern) DNA work has been published for European chickens, nor have there been any isotopic studies focused specifically upon their diets or whether they were bred locally or traded.
Given the social and cultural significance of this species (whether as a provider of meat, eggs or feathers, its widespread use in cockfighting or its association with ritual, magic and medicine), a detailed analysis of the natural and cultural history of chickens in Europe is long overdue and this has genuine potential to provide cultural data of the highest quality and relevance for a range of disciplines and audiences.
To realise this potential and elucidate the circumstances and meaning of the westward spread of the chicken from the late prehistoric period to modern times a trans-disciplinary team - composed of experts in European archaeology, anthropology, genetics, zooarchaeology, and other branches of archaeological science - will integrate the evidence from their specialist studies.
The Leicester team will comprise Dr Richard Thomas (Co-I), Dr Tyr Fothergill (Research Associate), and Alison Foster (PhD student - generously funded by the College of Arts, Humanities and Law) and will focus on osteometrics and pathology to investigate the changing size and shape of chickens, explore the archaeological identifiability of breeds, and document disease and injury through space and time.
Changes in subsistence strategies of Late Pleistocene hunter-gatherer populations from the Iberian peninsula: the importance of small prey (2013-2015)
We are very pleased to announce the arrival of Dr Lluis Lloveras Roca who has joined the laboratory on a two-year Beatriu de Pinós postdoctoral research project funded by the Generalitat de Catalunya. The project abstract is as follows:
Researchers have long identified the Late Pleistocene as a period of substantial change in human resource exploitation strategies. In Europe, assemblages pre-dating the Upper Palaeolithic generally indicate that animal proteins and fat were mostly derived from medium to large-sized ungulates. A resource diversification occurs in the Upper Palaeolithic, and again at the beginning of the Pleistocene/Holocene transition. Broadening of human diet is characterised by the progressive incorporation of small prey.
However, results obtained in several southern Iberian coastal sites in the last few years show that Neanderthals also exploited small fauna. This may indicate that diet breadth changed in non-linear ways over time and that foraging strategies were more varied than generally appreciated. Against this background, the acquisition and consumption of small prey is a controversial issue.
The final aim of this research project is to identify changes in small game use through time in the Iberian Peninsula. A palaeoeconomic approach will be used and faunal assemblages from several Iberian sites will be analysed using a taphonomical methodology. Once the strategies of subsistence carried out by hunter-gatherer communities in different ecological contexts and chronologies are determined, a careful comparison will allow the reconstruction of the most likely economic behaviour.
Tracking domestic livestock 'improvement' in London (AD 1300-1800)
A City of London Archaeological Trust funded project, undertaken by Dr Richard Thomas, Dr Matilda Holmes (freelance zooarchaeologist), and Dr Jim Morris (Museum of London Archaeology), is exploring size and shape change in domestic livestock in London. The first paper arising from this research, which examines size change in cattle, sheep, pig and chicken, is now available through the Journal of Archaeological Science. The project team are currently working with undergraduate student Emily Abrehart to explore size and shape change in horses.