Researcher wellbeing and research culture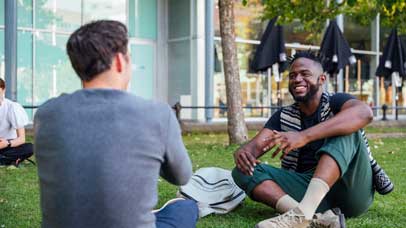 The wellbeing of research students is very important to the Programme and to the University of Leicester. Postgraduate students at the University have access to a wealth of resources designed to support their wellbeing and mental health while on the PhD and beyond.
A supportive environment provided by the Leadership and Supervisory Teams, as well as a strong cohort network are also strong features of the Programme.
The Programme facilitates deep career exploration and preparation, incorporating unique placements alongside a Programme of career coaching designed to enhance diversity in biomedical careers.
Our Doctoral College aims to develop rigorous and intrepid researchers, with world-class capabilities in the leadership, communication, and impact of research, and prepared for both academic and non-academic careers across the globe.
The University fully supports the Programme Leadership Team in delivering this training excellence and best research practice, and will support it to do so in an environment without discrimination, bullying or harassment.
The University has transparent procedures including the UoL Dignity at Work Code of Practice and Research Code of Conduct, underpinned by our culture of respect, promoting Equality, Diversity and Inclusion.