Programme content
Training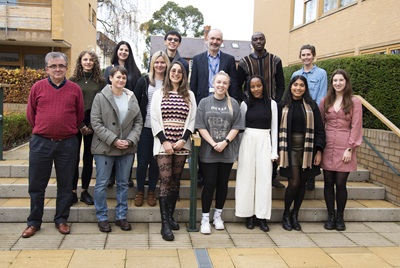 Each PhD student on the Programme will be studying their own individual PhD project under their supervisory team, but will also have the benefit of additional training, cohort-building, placement opportunities and career coaching as part of the wider Doctoral Training Programme. Each student can tailor their own training pathway to meet their evolving needs and career goals.
Training can be provided by:
The Programme: training is provided at cohort-level specific to students on the Programme
The Doctoral College: training is provided to all PGRs in the University
Other University sources: training is provided at individual-level and certain training may be recommended by supervisors
External sources: relevant training outside of the University that students may wish to attend on an individual basis in liaison with supervisors
Each cohort will be given a training plan for the first year, which will include sessions on different aspects of science communication, public engagement, open research and ethics. The Programme encourages researchers to have basic knowledge of both quantitative and qualitative methods as a starting point for subsequent relevant development.
Students will also be encouraged to attend relevant conferences, talks and seminars, both within and external to the University.
Placements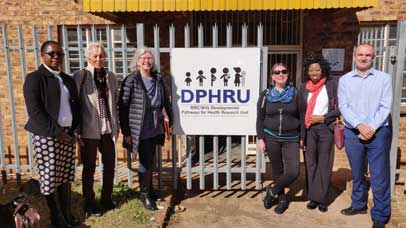 Students on the Programme can choose to undertake placements at any stage of the PhD, which give students access to:
Placement supervision or PhD co-supervision from one of our partner institutions
Travel and subsistence expenses
Funded placements at the end of the PhD to facilitate career transition
Placements are available through The Leicester Institute for Advanced Studies (LIAS), and with our industry partners:
AstraZeneca
Genentech
GlaxoSmithKline
Pfizer
The Programme also allows capacity to build in projects addressing global challenges together with low and middle income country (LMIC) supervisors for both UK and LMIC trainees. Our partners include:
University of the Witswatersrand, Johannesburg, South Africa and AWI-GEN partner institutions, including:

The African Population and Health Research Centre, Nairobi, Kenya
Institut de Recherche en Sciences de la Sante, Clinical Research Unit of Nanoro, Burkina Faso
Navrongo Health Research Centre, Ghana

Laboratory of Genetics and Molecular Cardiology, University of São Paulo Medical School, São Paulo, Brazil
SSIR Centre for Cellular and Molecular Biology, Hyderabad, India