History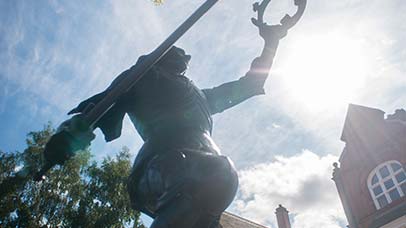 Leicester is one of the oldest cities in England, with a history going back at least two millennia. Leicester's historical buildings include the 14th century Guildhall and Jewry Wall, one of the largest surviving pieces of Roman architecture in Britain.
The city is famous for its association with King Richard III who mustered his army here in 1485 and was buried in a Leicester church after being defeated and killed at the Battle of Bosworth Field. The king's lost grave was found in 2013 by University of Leicester archaeologists. His remains were reinterred in Leicester Cathedral which has the Richard III Visitor Centre nearby.
If you arrive in Leicester by train you'll spot the only statue ever erected to a travel agent. In 1841 Thomas Cook chartered a train to Loughborough, establishing the modern tourism industry. You can now travel that route on the Great Central Railway, Britain's premier heritage steam line.
Other famous historical figures from Leicester and Leicestershire include Lady Jane Grey, who was Queen for nine days in 1554; playwrite Joe Orton; Victorian naturalist Alfred Russell Wallace; Monty Python's Graham Chapman; and the 'Elephant Man', Joseph Merrick.