History
History
Roman, Medieval, Victorian and 20th Century – Leicester has a great heritage of, well, heritage.
Leicester was founded in the first century AD and retains some impressive Roman materials including Jewry Wall, one of the largest surviving pieces of Roman architecture in Britain. It was an important medieval town – make sure to visit the 14th century Guildhall – and of course became nationally significant in 1485 when King Richard III mustered his army in the loyal town of Leicester and rode out to meet his enemy Henry Tudor at nearby Bosworth Field. Henry had Richard's body brought back to Leicester and swiftly buried. Five hundred years later, archaeologists from the University of Leicester located King Richard's lost grave, enabling him to be reinterred with due dignity in the city's small but attractive cathedral in 2015. The Richard III Visitor Centre tells the whole story.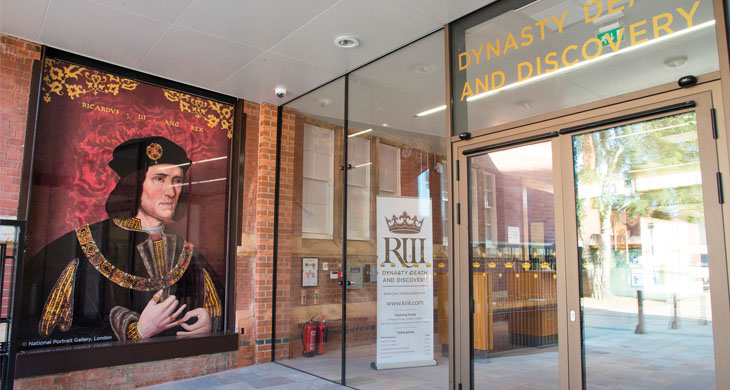 But there is much more to Leicester's history than Richard III. Expansion in Victorian times has left some fine Victorian architecture across the city, including the University's own Fielding Johnson Building which was constructed in 1837 as the Leicester and Rutland Lunatic Asylum. Joseph Hansom, Leicester-born designer of the Hansom Cab, designed many Victorian buildings across the city including New Walk Museum, home to some fantastic (and scientifically important) fossils.
If you arrive in Leicester by train you'll spot the only statue ever erected to a travel agent. The gent with the rolled umbrella outside the station is Leicester's own Thomas Cook, who chartered a train to Loughborough in 1841 and in so doing basically invented tourism. You can still travel by steam train between the two towns today on the Great Central Railway, Britain's premier heritage steam line. Fans of historical engineering will also want to visit Abbey Pumping Station (next to the National Space Centre), the only place in the world where you can see three Victorian beam engines running together.
Other famous historical figures from Leicester and Leicestershire include Lady Jane Grey, Britain's shortest reigning monarch who was Queen for just nine days in 1554; taboo-breaking 20th century playwrite Joe Orton; Victorian naturalist Alfred Russell Wallace, who developed the theory of evolution at the same time as Darwin; Monty Python's Graham Chapman; and the 'Elephant Man', Joseph Merrick.
Across the City of Leicester you can discover all manner of historical curios. See if you can track down the location of the last ever gibbet in Britain, where a murderer's body was displayed in 1832. Or the site where Fox's Glacier Mints were originally made (look for a pub called The Polar Bear). Or The Little Theatre, where Lord Attenborough began his career in the 1930s. Richard and David Attenborough actually grew up on the campus of University College Leicester where their father was Chancellor. In 1957 the University College became the University of Leicester where history continues to be made today with ground-breaking research and world-class graduates.