Getting to Leicester
Getting to Leicester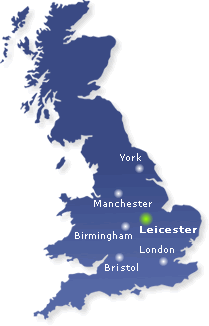 Leicester is located right at the heart of the UK - making travel to other parts of the country easy.

Leicester is ideally located in the centre of England. You'll only be one hour from Birmingham, or one hour ten minutes from London by train. There are regular direct trains to St Pancras International, making getting about in London easy, as well as giving you the option to travel to Europe on the Eurostar.

Leicester train station is conveniently located within walking distance of the campus.
Getting here...
... by bus or coach
If you are travelling to Leicester by bus or coach you will arrive at St Margaret's Bus Station in the city centre. You can get a bus to the University campus or Halls of Residence from the Haymarket Bus Station which is about five minutes' walk from St Margaret's.
The no.48 bus, operated by Arriva, leaves the Haymarket every 15 minutes and takes about ten minutes to reach the University. (NB. The return journey is the no.47.)
The no.80 bus, also Arriva, leaves from Abbey Street (near St Margaret's) every 30 minutes and continues past the University to the Halls of Residence in Oadby. When returning, be aware that the 80A operates largely the same route but does not go to the railway station or city centre.
Alternatively there is a taxi rank outside St Margaret's.
... by train
Leicester lies on the London-Sheffield and the Birmingham-Stansted lines.
Approximate journey-times and frequencies of trains are:
From London (St Pancras station):70-90 minutes/four times an hour
From Birmingham (New Street station): 60 minutes/twice an hour
From Luton (Airport Parkway station): 60 minutes/hourly
From Stansted Airport: 2 hours 30 minutes/approximately hourly
You can get to the University on foot in 15 minutes, by turning left outside the station, walking up London Road and then turning right along University Road. From the railway station you can also catch the number 48 or 80 bus service which runs from outside the station to the University. The 80 bus route also serves a number of University accommodation sites, but only operates during University term-time.
There is a taxi rank at the railway station. The fare should be between £5 and £12.
... by car
The University's postcode is LE1 7RH. You can access the campus via University Road. Parking on campus is very limited but there are several car parks nearby.
... by plane
We are close to several major airports with good bus and train connections to Leicester.
Further information
Further information can also be found on the University's maps and directions webpage.