Travel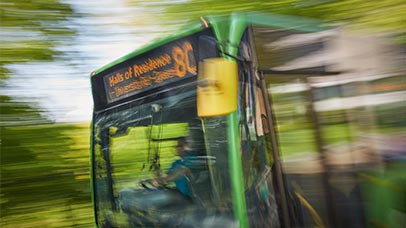 Getting to Leicester and to the rest of the UK is made easy by the city's excellent rail and road connections. Leicester is centrally located within the UK and only 65 minutes from London.
Getting to the University
Train
Leicester Railway Station is just 15 minutes' walk from our campus. Alternatively you can catch the no. 48 Arriva bus or get a taxi.
Coach/bus
The Arriva 48 bus runs frequently from the Haymarket Bus Station in the city centre to University Road. (Return journey is the 47 bus.)
Car
We have a multi-storey pay-as-you-go car park just next to campus. The postcode is LE2 7TG. If you need an accessible space on campus, please email our Parking Office two working days before you come to campus.
The postcode for the The Village accommodation is LE2 2LH. There is free parking available at the Village.
There are also a number of pay and display car parks near main campus.
Air
Our nearest airport is East Midlands Airport (approximately 20 miles from campus). We can also be reached easily from Birmingham Airport, Stansted Airport, Luton Airport and Heathrow.
Getting about in Leicester
Packed with information and advice on walking, cycling, public transport and car sharing – the Choose How You Move website is a one stop shop for travel in Leicester and Leicestershire.
Taxi
Our Students' Union has an agreement with a local taxi firm for a 10% student discount and a fixed rate service between campus and popular destinations.
Bus
You can make use of regular buses that cover the city centre and county. There's also a dedicated bus service running between The Village and campus - you can buy a termly pass from The Village reception.
Shuttle
Medical students can travel for free on the Hospital Hopper shuttle service which connects Leicester's three hospitals.
Cycling
Cycling is a very popular, cheap and environmentally friendly way to travel about Leicester. Leicester is a cyclist friendly city with many dedicated cycle paths lanes on most of the roads between halls and main campus. We have a large underground bicycle store in the centre of campus for over 300 bikes and there are additional bicycle racks at most of our other locations.
Leicester City Council provide a vast amount of information on cycling, free PDF maps and an excellent online interactive map to help you plan your journey.