Getting about in Leicester
Getting about in Leicester
Leicester is a compact city, making getting about easy and convenient. There are a number of different options to suit every budget.
Travelling around Leicester...
... by taxi
The Students' Union has partnered with a local taxi firm, Swift Fox Cabs, who provide a fixed rate taxi service from campus to various popular destinations.
Destination (1 – 4 Passengers)
John Foster Hall £5.50
Mary Gee Houses £4.50
Nixon Court £3.80
Opal Court £3.80
Filbert Village £3.90
Sainsbury's, Queens Road £3.90
Spar – Evington Road £3.90
Grimsby Fisheries £3.80
De Montfort Students' Union £3.90
Railway Station £3.90
St Margaret's Bus Station £5.00
Liquid £5.00
Vodka Revolution £3.20
If your journey isn't one of our fixed rate journeys, Swift Fox Cabs offer a 10% discount to students (just show your student ID).
... by bus
You'll also be able to make use of regular buses that run from campus to the halls of residence, as well as to the city centre and the rest of the city.
You can buy an annual, termly or four-weekly bus pass from the Students' Union when you arrive.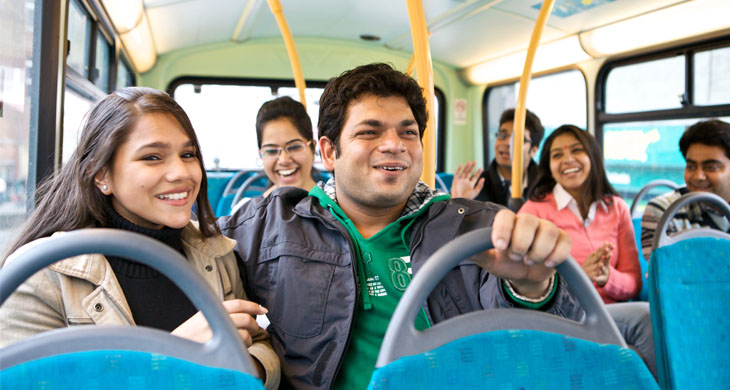 ... by car
The University's central location within the city means that parking around the campus is very limited. There is very limited visitor parking on the main University campus on University Road during working hours. If you do plan to travel to the campus by car there are pay and display car parks near the University.
View further details, including maps and directions to the University from the car parks.
... by bike
There are bicycle lanes on most of the roads between halls and the University.