Between Diaspora and the 'Land of Israel': Jewish Dress, Migration and Belonging, 1880's - 1948
Dr Svenja Bethke discusses her Arts and Humanities Research Council (AHRC) funded project on Jewish Dress, Migration, and Belonging.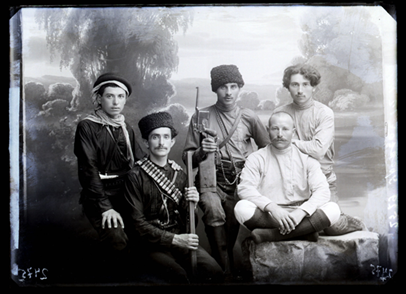 Dress expresses intimate feelings of belonging and identity. A focus on dress is especially rewarding when looking at migrant societies in which people from diverse backgrounds have often different ideas of how one should dress and why.
My research looks at the role of ordinary immigrants in defining dress ideals. It investigates how a consensual mode of dress emerges in a migrant society where different ideas of what 'one should wear' and why, exist, and compete. It also examines how and when certain ways of dressing become 'fashionable' in a society.
During an AHRC Research, Development and Engagement Fellowship (2023 - 2025), I will be working with a postdoctoral Research Associate and Israeli and British project partners in the museums and heritage sector, to investigate three strands which are united in their themes of dress as an expression of belonging in times of migration.
First, I am writing a monograph that looks at dress in the historical migrant society in the 'Land of Israel'. It considers the period between the 1880's, when large scale Jewish migration to the region began, until 1948 when the Israeli state was founded. My book investigates how Eastern European and German immigrants to the region expressed their identity through dress and how they were able to enforce ideal ways of dressing. It analyses visual, written, and oral sources to show how these migrant groups defined and perpetuated certain ways of dressing as 'appropriate', 'ideal' and 'national' in the new homeland. It also examines the influence of the dress habits of the local Arab population and the changing occupying Ottoman and British authorities on these dress ideals. Through the lens of dress, I aim to make the role of immigrants in nation building visible: to shed light on processes of inclusion and exclusion in a migrant society with individuals from vastly different backgrounds.
Second, I will use this as starting point to build an innovative global collaborative research agenda and research team to investigate how migrant groups expressed their feelings of belonging through dress and how they influenced modes of dress globally. I will be organising an international online conference and editing a book that compares histories of dress and migration across the world. The third strand is a programme of engagement work with partner organisations from the heritage and museums sector in Israel and the UK. I will hold two workshops with these project partners, one in Jerusalem with the Yad Ben Zvi Institute, and one in Leicester with Leicester Museums and Galleries, which involves migrant groups from the diverse populations in the two cities. In two workshops, participants will be invited to bring an item of dress or photographs of dress items. Through the lens of dress, we will explore their personal or their family's history of migration and heritage. A final fashion show in Leicester will showcase selected participants and their stories of dress and migration, documented by a professional photographer and videographer and we'll showcase these activities through a website, and social media.
This research project was awarded an AHRC Research, Development and Engagement Fellowship (2023 - 2025). The groundwork for this project was laid during a Marie Skłodowska-Curie Fellowship hosted at the Hebrew University in Jerusalem funded by the European Commission (Horizon 2020) under grant number 795309 – IDCLOTHING (2019 - 2021).
Figure 1: The Pinhas Lavon Institute for Labor Movement Research, Avraham Soskin Collection, Studio photo of some members of "Hashomer" organization, photographer: Avraham Soskin, around 1913, Sign. P -51055.
Figure 2: The Oded Yarkoni Historical Archives of Petakh Tikva, Moshav Ein Ganim, around 1908, Sign. 002-002/2514.